Dear Gentlemen, here we are happy to present you the testimonials of the members who have found their soulmates with help of our Marriage Making Agency.
Hier äußern sie ihre Meinungen, Erfahrungen und Vorschläge, sowie auch ihre Meinungen nach der Mannschaft des UaDreams, für die Männer, die zweite Hälfte in anderem Land suchen.
Lesen Sie, bitte, auch die Begutachtungen der Frauen - sie sind sehr glücklich, Mitglieder unserer Heiratsvermittlung zu sein! Einige Begutachtungen und UaDreams Reviews der Frauen können Sie auch hier finden: Wie machen wir Frauenphotos.
We are so proud of what you, our dearest members,
are saying about us
Just look at these people and their sincere gratitude towards us. Each employee of our company invested a part of his or her efforts and talent, to help you to find your dream!
Show next random testimonials
Al: Guys come on over and take a look at these beautiful ladies
Hi! I am here in Odessa, Ukraine. I have come from Plymouth, Massachusetts in the USA. I have been the member of UADREAMS for three and half years. And I can say their service and their professionalism and the service that they have given to me for these 3.5 years have been excellent. I have made two trips to Ukraine. Last year I spent a month in Cherkasy. And this year I've spent a month here in Odessa. And all of the ladies that have been presented to me were all beautiful. They are very lovely and smart. They have everything that I was looking for. And fortunately and finally I have met my Dream Girl here in Odessa. And she has agreed to come back to USA and live with me in the USA this summer as soon as she can get her visa and passport together. And I am extremely excited about finally finding my true love with a wonderful and beautiful lady from Odessa, Ukraine.
And all along all the service that I have ever received from UADREAMS has been first class. The interpreter, Kate (Ekaterina – that is a little bit tough for me to tell that name, but as she said Kate for short) has been excellent. She has been with me all the time I have been here for a month. She has been with me all the step of the way. She has taking me on a guided tour. She has made all the appointments and all the arrangements for my driver. I can't ask for anything better than she was. She is a true friend of mine now. And I will be forever grateful to both UADREAMS and Kate.
I have been living in the past month in this beautiful hotel. It is only three years old, very modern. People here are… at this hotel... It's a family hotel... They have been wonderful to me. They have served me breakfast every morning. Everything in this trip and every time that I have come to Ukraine has just been excellent to me. You know, men from USA really to go to UADREAMS and take a look for themselves. The best luck secret in the world is the beautiful ladies of the Ukraine. And I am just so excited that the only thing was missing in my life and I am so happy that I was persisting enough to finally find her . I went through numbers of ladies. They were all very lovely, they are who are presented in their profiles. Everything about them is true. But I am so delighted and excited. Everything along the way of three and a half years is just been great... my e-mails, my video- chats with the ladies all this time has been excellent. The interpretation has been wonderful. And I highly recommend for you guys in the USA to come and to find the greatest secret in the world.
And even traveling around Odessa... Odessa is beautiful especially is on the ocean. It's very similar to the place I live. I live in Cape-cod, Massachusetts with the ocean and everything that is on the Black Sea is very similar like I said to where I live. I would enjoy living here and living there. We do plan on doing both you know in our lives as well. So my life has been 100 per cent in my favor. And I am so grateful to my interpretor, to UADREAMS for giving me this opportunity. And like I said guys come on over and take a look at greatest secret that this world has and at these beautiful ladies of the Ukraine.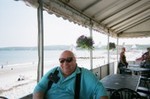 Al / die USA
4 March 2014
Reise nach Odessa
Show next random testimonials
Ronnie: Sie müssen ihren Träumen folgen
Das ist mein letzter Tag hier in Kremenschuk. Und diese Reise war die schönste Zeit in meinem Leben. Vor einigen Jahren habe ich eine wunderschöne und erstaunliche Prinzessin hier bei UaDreams getroffen. Zuerst, wie alle, war ich gegenüber dieses Gesellschaft und seiner Service skeptisch. Wie viele Amerikaner und Leute aus anderen Ländern. Aber, so geht die Geschichte weiter, habe ich sie online bei UaDreams getroffen und fühlte tiefe Bewunderung über dieses Girl.
Sie war die Frau, von der ich geträumt habe, als ich 5 Jahre alt war, ein sehr kleiner Jünge. Nach dem Austausch von vielen vielen Briefen und fast einem vollen Jahr des Videochats habe ich schließlich entschieden, in die Ukraine zu kommen und diese wunderschöne Lady zu treffen. Vor der Ankunft am Kyjiwer Flughafen verspätete sich mein Flugzeug, und ich wurde von der Übersetzerin Natasha und dem Manager der Filiale Eugene abgeholt.
Sie beide waren sehr glücklich, mich zu sehen und mich ins mein Hotel gebracht. So eine wunderschöne Erfahrung mit der Qualität der Service haben diese netten Leute mir geleistet. Alle hier waren ganz glücklich und freuten sich, als sie mich gesehen haben. Sogar alle Leute, die ich hier in Restaurants und in meinem Hotel begegnet habe, waren auch sehr freundlich und höflich.
Der Ort, den ich besucht habe, ist wirklich wie ein Zuhause weit von meinem Zuhause. Und jeder hier ist wirklich ehrlich.
Meine Übersetzerin Natasha war sehr professionell und fleißig, sie konnte die echte Bedeutung meiner Worten übermitteln und meine Begeisterung gegenüber meine Lady sogar besser, als ich das selbst äußern konnte, ganz genau äußern. Ich habe ein zusätzliches Traum-Date mit wunderbaren Blumen für meiner Lady bestellt, und ich freue mich sehr, dass ich das gemacht habe, denn meine Lady hat das Date völlig genossen, und man konnte von ihr Lächeln sterben. Das Essen in Restaurants war echt großartig, und die Preise waren wirklich vernünftig, rücksichtlich der Quantität des Essens und Getränke, die wir bekommen haben.
Trotz der Verwirrung, die in der Ostukraine und auf der Krim passierte, ist der übrige Teil der Ukraine unberührt geblieben. Die Leute hier sind freundlich, ehrlich und sympathisch. Sie alle sorgen sich für alle meinen Bedürfnisse, während ich hier bin. Viele Meschen aus meiner Heimatstadt haben mir viel Schlechtes gesagt, warum ich hier nicht kommen soll. Aber ich versichere sie, dass sie ihren Träumen folgen müssen, und hier fahren, um dieses schöne Land und die Leute hier zu bewundern. Genauso wie wunderschöne Ladys hier.
Ich habe aufs Land gefahren, um ein großartiges Grillen für meine Lady zu machen, und sie hat auch einige ihre Familienmitglieder eingeladen, um sie mir vorzustellen. Alles verlief wie geplant, und wir hatten die beste Zeit unseres Lebens hier. Keine Worte können die echte Liebe zu diesem Land, diese sehr dankbaren Leute und meine liebste Lady hier in Krementschuk äußern.
Die einzige Sache, die ich bedaure, ist, dass ich nach Hause zurückkehren muss und plante keine längere Zeit, um sie hier in diesem wunderschönen Land mit meiner lieben und herrlichen Lady zu verbringen. Ich komme in die USA nach einer nicht sehr langen Reise, zurück und muss Ihnen sagen, dass meine Lady mein Herz hier in Krementschuk behalten hat. Ich hoffe, dass ich sehr bald zurückkehre, um es abzuholen.
Ronnie USA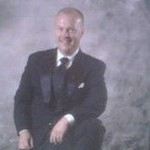 Ronnie / die USA
18 May 2016
Reise nach Krementschuk
Latest and fresh testimonials date by date
Will: Ich fühle mich glücklich und gesegnet wegen dieses Besuches
Danke schön, dass Sie mir eine Möglichkeit gegeben haben, dieses wunderschöne Land die Ukraine kennezulernen, und danke an die Agentur, dass sie meinen Besuch möglich machte.
Der Transport, der mir von der Agentur zur Verfügung gestellt wurde, war immer sehr pünktlich und ein sehr guter Service. Die Übersetzerinnen, Nataly in Poltawa und Luyba in Tscherkassy, waren ausgezeichnet. Ich fühlte Zustimmung, Schutz, Fürsorge und Verständnis zu mir...
Ich mag Poltawa sehr, denn es hat mir an die Stadt erinnert, wo ich geboren wurde, in El Salvador. Außerdem habe ich eine schöne Lady hier getroffen und mein Herz ist jetzt in Poltawa.
Tscherkassy ist eine schöne Stadt und ich wurde hier mit viel Sorge behandelt. Ich hoffe, hier eines Tages wieder zu kommen.
Die Leute in der Ukraine sind fürsorglich und freundlich. Das Essen ist sehr gut und die Kultur ist herrlich. Ich hoffe, dass eines Tages werde ich Glück haben, eine schöne Ukrainerin zu heiraten...
Die USA ist mein zweites Haus, deswegen denke ich über die Leute in der Ukraine, erinnere mich an sie und vergesse sie nicht. Ich fühle mich glücklich und gesegnet wegen dieses Besuches und hoffe, wieder zu kommen...
Will.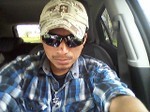 Will / die USA
11 April 2017
Reise nach Poltawa, Tscherkassy
Stephen: Es war eine fantastische Reise für mich
Hallo UaDreams,
Es war sehr angenehm, nach Poltawa mit der Hilfe von Ihren Servicen zu reisen.
Roman und der Fahrer waren eine ausgezeichnete Gesellschaft und dank Ihnen hatte ich eine gute Zeit von Kyjiw nach Poltawa und ich habe mit Roman sehr gerne geplaudert.
Man wurde mich neben einem Wohnblock abgesetzt, wo ich von Irina getroffen wurde, die freundlich und charmant war und hat mich die Wohnung gezeigt, so dass ich mich auf das erste Treffen mit meiner Lady vorbereiten konnte.
Vor dem Treffen wurde ich von meiner Übersetzerin Nataly kontaktiert, die auch sehr nett war und gut Englisch gesprochen hat. Wir haben in die Agentur gekommen, um ein Formular vor dem Treffen auszufüllen, und dann hat sie mich eine Tasse Tee gemacht, bevor meine Lady in die Agentur gekommen ist.
Es war ein nettes erstes Treffen, und meine Lady war sogar schöner und süßer im realen Leben, und wir hatten ein schönes Mittagessen in einem Restaurant, die sie gewählt hat. Wir hatten ein schönes Gespräch mit Nataly, die ausgezeichnet übersetzt hat, und haben uns verabredet, uns wieder am Samstag zu treffen.
Das Date am Samstag war auch nett, und ich wurde dem Hund meiner Lady vorgestellt, der auch sehr süß ist, und ich muss hinzufügen, dass wir eine großartige Zeit hatten, indem wir das Museum des Krieges in Poltawa besucht haben.
Am Sonntag hatten wir noch zwei Treffen, ein während des Tages und ein am meinen letzten Abend in Poltawa, und in jedem Fall hatten wir gute Zeit, und Nataly war eine wunderschöne Gesellschaft und eine ausgezeichnete Überseterin, wenn ich hier noch komme, hoffe ich, dass ich sie bitte, unsere Übersetzerin zu sein, denn ich bin mit der Übersetzung sehr zufrieden.
Roman ist rechtzeitig am Montagmorgen gekommen und hat mich im Flughafen gefahren, wo ich noch viel Zeit hatte, und dann bin ich nach Hause geflogen.
Im Allgemeinen war es eine fantastische Reise für mich und ich plane, meine liebste Lady wieder in der Zukunft zu sehen.
Herzliche Grüße,
Steve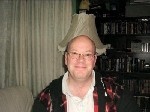 Stephen / Vereinigtes Königreich
4 April 2017
Reise nach Poltawa
Masood: She was real professional
Kate was very helpful in introduction to the lady. She was real professional.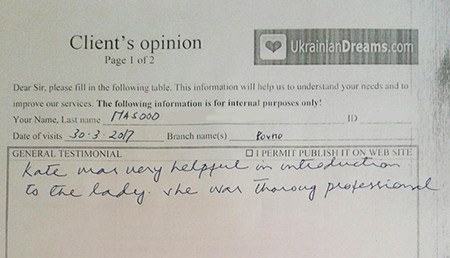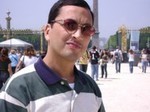 Masood / Pakistan
30 March 2017
Reise nach Riwne
Mahmoud: I appreciate and thank UaDreams team
I would like to thank UaDreams team for the support while my stay in Ukraine.
The translation services and translator was perfect and helpful to overcome the language barrier between me and the lady. Also she supported us in all places we visited which were very nice and I feel as I am in my home country.
I met with beautiful and real lady, she was so kind and tender and she is serious about her search to find the true love and build her happy family.
I appreciate and thank UaDreams team for all the support and care.
Mahmoud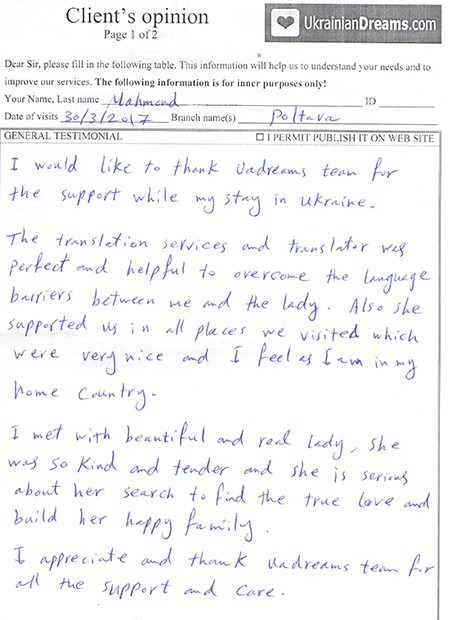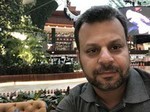 Mahmoud / Egypten
30 March 2017
Reise nach Poltawa
James: I loved coming here
I loved coming here. Zaporozhye is a interesting city with lots of history, people who are very polite and welcome everyone to enjoy their stay here with them and their friends.
The women in Zaporozhye are very beautiful, look after themselves very well, are respected, and very loyal to their families and husbands if married. The city is in bad repair but everyone copes and survives every day life.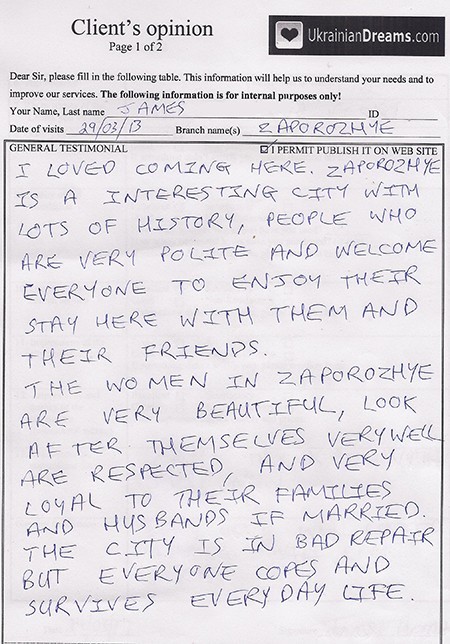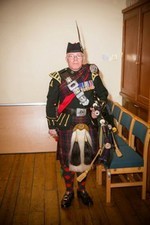 James / Vereinigtes Königreich
29 March 2017
Reise nach Saporischschja
Giorgio: Good services and excellent translator
Good services and excellent translator. All OK!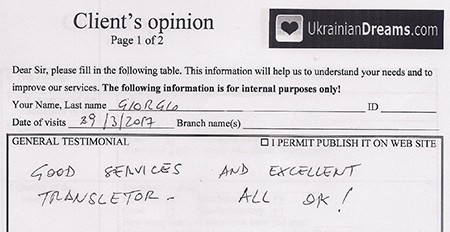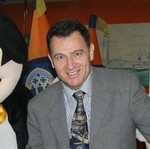 Giorgio / Italien
29 March 2017
Reise nach Saporischschja
Frank: I am very satisfied with the translator job
I am very satisfied with the translator job and have nothing to complain at on my visit 9 of March 2017.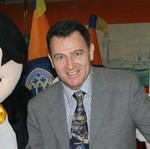 Frank / Italien
29-31 March 2017
Reise nach Saporischschja
Mario: I am glad to see the lady in Sumy again
We had a great time, translator Marina did a great job and we were visiting nice places. I am glad to see the lady in Sumy again. Sumy is a nice city to visit and you will find friendly people there. Good restaurants + museums.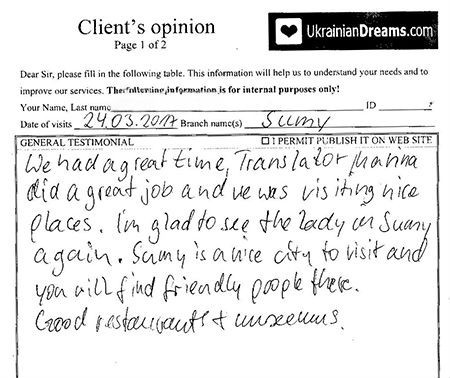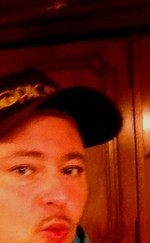 Mario / Deutschland
24 March 2017
Reise nach Sumy
Simon: The staff at Kharkov branch was outstanding
My time spent with my lady was amazing. I was at first thinking would she meet me but when she did I was over the moon. The staff at Kharkov branch was outstanding and made me welcome and the translation service from Anastasia I couldn't of asked for anyone better. We are going to continue our communication with each other and hopefully in time I will be visiting and even my lady will be able to visit. You don't know what the future holds.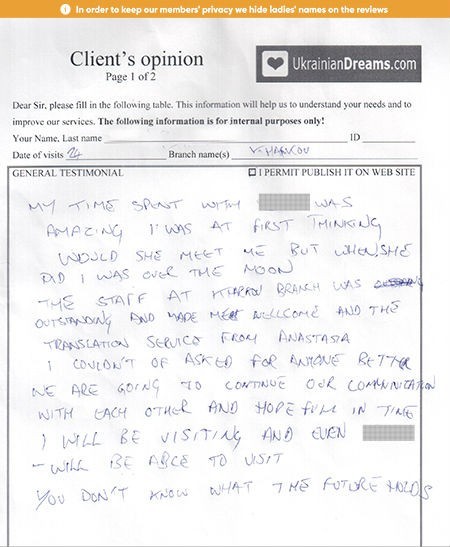 Simon / Vereinigtes Königreich
24 March 2017
Reise nach Charkow
Stephen: Don't hesitate, this is a good trip
My name is Steve and I am here in Poltava branch of UaDreams. I must say I had a wonderful weekend. The people at the agency have been wonderful, my translator has been wonderful and the girl I came to meet has been beautiful and wonderful. The whole place was talent, my needs, I asked for apartment – they got me very nice one. I met many times with the lady, we had a good time on every single occasion.
The quality of the translations is superb, you won't get any misunderstandings. Poltava itself is a lovely small city, if you don't like the big city life, it's a place to come. Just watching from my window in the apartment – there are so many more beautiful ladies here, so don't worry about coming down. And if you already made up your mind and you decide to come to Poltava – don't hesitate, this is a good trip.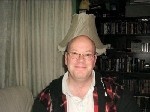 Stephen / Vereinigtes Königreich
24-27 March 2017
Reise nach Poltawa
James: I will definitely come back
I have spent 10 days here visiting here with 2 ladies. The two ladies. I found both ladies were very beautiful. I spent most of time with one of them. As I have been communicating with here for a long time. We have spent time together in many restaurants and other places such as the bowling, Khortica island, shooting arrows and visiting the siege. I will definitely come back to visit either the first lady and perhaps the second lady. They are very beautiful and I get on and communicate with them very well. Many thanks for all your help and everything. I know I did not plan everything like I should have but you were very helpful.
— Can you tell me what is your name?
— My name is James I came here on a week past, Tuesday, roughly on 21st of March in eighteen... twenty seventeen, to see my girlfriend. I've met her and had many many romantic occasions since I came here. We had a great time on Khortica island. And there shoot bows and arrows, were at the siege. We have had a great time dancing and karaoke and what else, dancing.
— What was your experience in general? Did you like it?
— Experience in general was a great time and I liked it very much. She is a very very nice lady And I will definitely come back and to see her. I hope she will stay in contact with me. And our relationship will develop from here.
— Would you like to advise the services of the agency you received?
— I like the services of the agency I have received very much. They were very helpful and helped me often with all services. Since I've arrived here I've had a translator every day who I am thankful very much for advice of pubs, restaurants, night clubs to this time here. He helped me for my translation and helped me, because I speak Russian, with my pronunciation.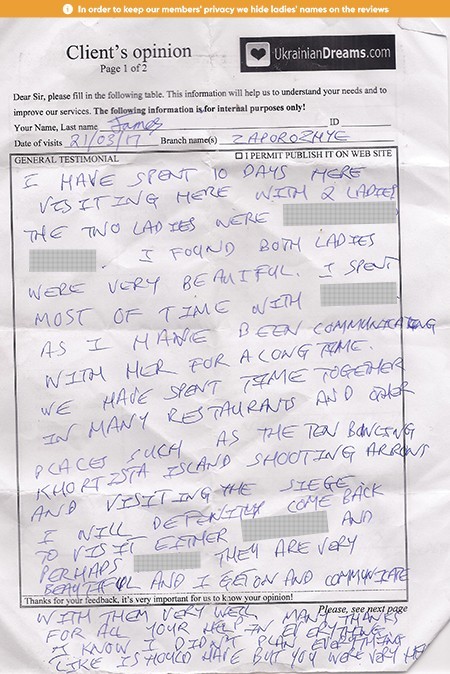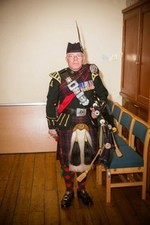 James / Vereinigtes Königreich
21-30 March 2017
Reise nach Saporischschja
Nathan: Translator did very nice job!
Cost of Auto transportation is extremely expense from Airport.
Suggest figuring out alternative to reduce that cost.
Translator did very nice job!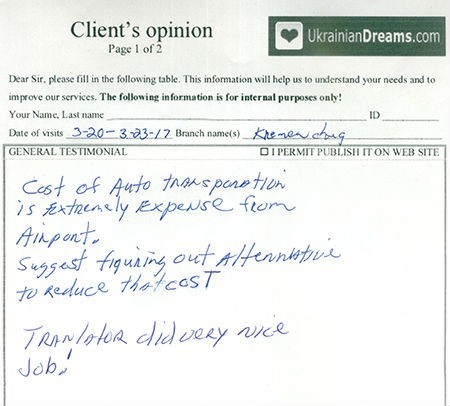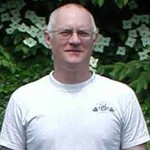 Nathan / die USA
20-23 March 2017
Reise nach Krementschuk
Eddie: Elle était mon rayon de soleil!
Elle était mon rayon de soleil! Ce n'était pas mon premier voyage en Ukraine mais le premier à Kharkov et malgré la pluie, ma Lady a été mon rayon de soleil durant tout le week-end.
Le personnel de l'agence était comme d'habitude très accueillant et Anna, mon interprète a fait un excellent travail de traduction.
J'ai pu découvrir une très belle ville mais j'ai toutefois un regret, la météo n'était pas assez belle pour que nous puissions nous promener et apprécier tous les merveilleux endroits que Kharkov possède.
C'est pourquoi j'aimerais pouvoir revenir très vite pour découvrir plus de choses et surtout revoir ma Princesse ,car un seul week-end est beaucoup trop court pour apprendre à nous connaître.
Encore un grand Merci à ma belle demoiselle pour sa geutilesse,sa sincérité, ses éclats de rire et merci de m'avoir donné du bonheur en m'ayant permis de la rencontrer.
Translation into English:
She was my sun ray! It was not my first trip to Ukraine but the first one in Kharkov and despite the rain, my Lady was my sun ray throughout the weekend.
The staff at the agency was very welcoming and as usual Anna, my interpreter, did a great job of translating.
I was able to discover a beautiful city but I regret that the weather was not good enough for us to walk and enjoy all the wonderful places that Kharkov has.
This is why I would like to be able to come back very quickly to discover more things and especially to see my Princess, because a single weekend is too short to get to know each other well.
Another great thanks to my beautiful lady for her gentility, her sincerity, her bursts of laughter and thank you that you gave me happiness allowing me to meet her.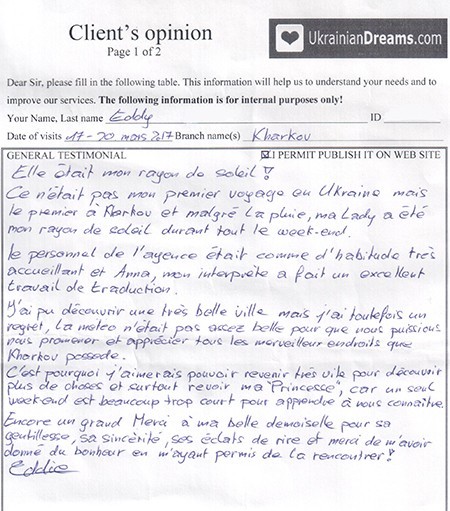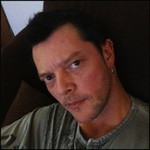 Eddie / Schweiz
17-20 March 2017
Reise nach Charkow
Martin: Getting closer to each other
Though starting at the agency, what is for sure not the most romantic place, our date began in great mood and took us in a very pleasant evening. Getting closer to each other, enjoying to meet in real life, accompanied by a very nice translator, being much more real interpreter, trying to make us feel as comfortable as possible. Thanks for such great service. Kind regards. Martin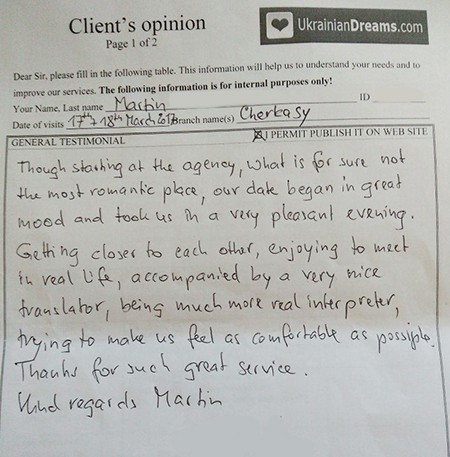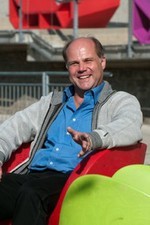 Martin / Österreich
17-18 March 2017
Reise nach Tscherkassy
Robert: The service was fantastic
The service was fantastic, Kate's English was excellent and she is a pleasure to be around. Thank you.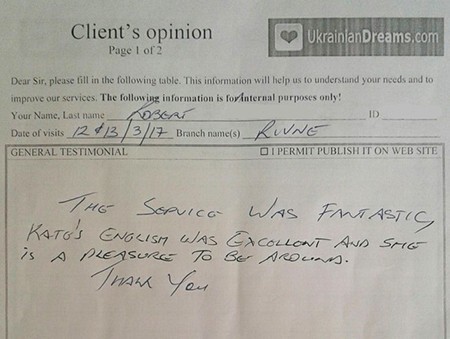 Robert / Australien
12-13 March 2017
Reise nach Riwne
Mohamed: Thank you for your support
Dear UaDreams team,
Thank you for your support and the good services I got when I was in Ivano-Frankivsk city. I'd like to thank Julia for her good and nice support and translation.
Mohamed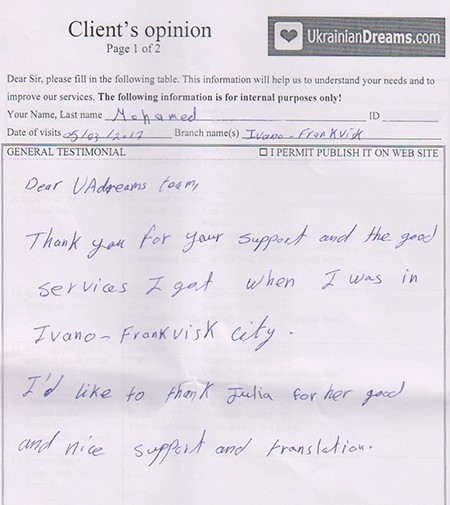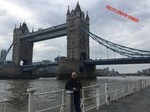 Mohamed / Egypten
5 March 2017
Reise nach Iwano-Frankowsk
Eddie: J'ai passe 2 journees formidable
En weekend à Sumy j'ai eu le plaisir de découvrir non seulement une jolie ville, des tres beaux pares et des musees impressionnants, mais aussi d'apprende a connaitre la culture Ukrainienne grace a la lady que je suis veuu rencontrer.
Elle a été une guide magnifique et j'ai passe 2 journees formidable.
Après avoir discute pendant plusieures semaines avec elle par lettres et videochat, nous avons enfin en l'occasionde nous rencontrer, et j'espere que nous allons nour revoir.
Merci à l'équipe de UaDreams qui a fait un excellent travail. Eddie
Translation into English:
During the weekend in Sumy I had the pleasure to discover not only a beautiful city, beautiful parks and impressive museums, but also to learn a lot about Ukrainian culture thanks to the lady that I came to meet.
She was a wonderful guide and I spent here 2 wonderful days.
After several weeks of communication with her by letters and video chat we finally had an opportunity to meet and I hope I will see her again.
Thanks to the UaDreams team who did a great job. Eddie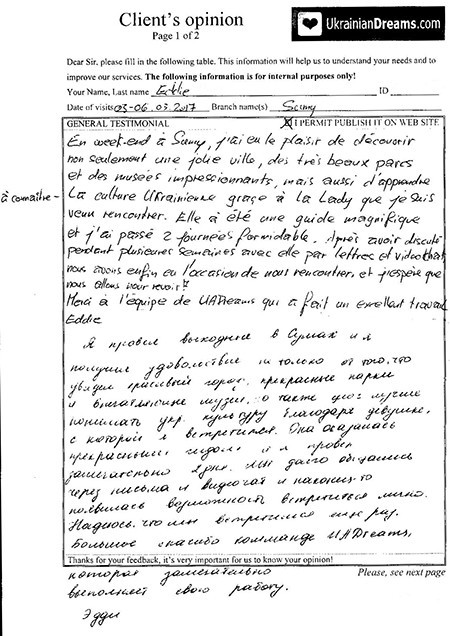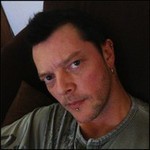 Eddie / Schweiz
3-6 March 2017
Reise nach Sumy
Mohamed: It was nice time with pretty lady
Dear UaDreams,
Thank you for your support.
It was nice time with pretty lady.
Thank you Oksana for your support and for the very good translation.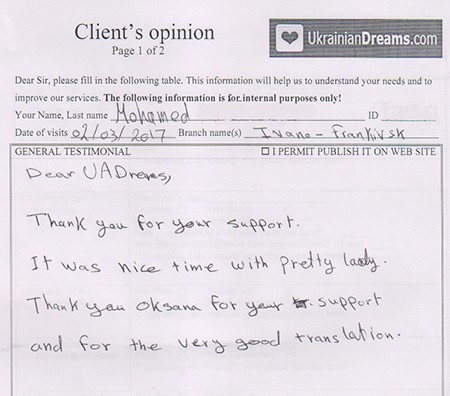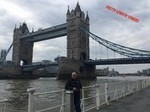 Mohamed / Egypten
2 March 2017
Reise nach Iwano-Frankowsk
Kjell: I had a good service over all on my meeting
I had a good service over all on my meeting 27 of February and have no complainners at all.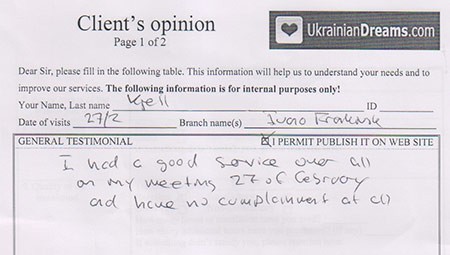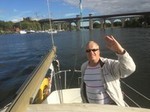 Kjell / Schweden
27 February 2017
Reise nach Iwano-Frankowsk
Grzegorz: Really brilliant
The best translation service I have experience so far at UaDreams. Really brilliant (even better than in Lutsk). The livst girl who was communicative as well.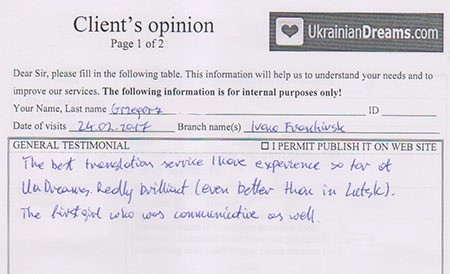 Grzegorz / Schweiz
24 February 2017
Reise nach Iwano-Frankowsk
Pierre: So many bravo!!!
So many bravo!!! All the best for our Dreams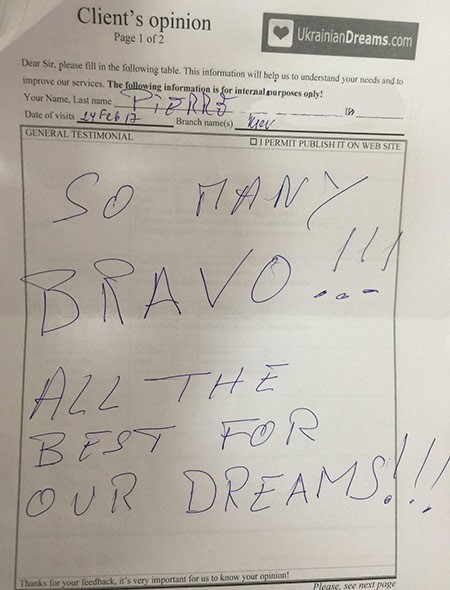 Pierre / die USA
24 February 2017
Reise nach Kyjiw
Robert: Overall a very good experience
I had a very good date with my lady — she is almost as beautiful as her photos. Personality is a little cool but I will work with it. Translator Marina was excellent. I had difficulty to find your office. Overall a very good experience. I am amazed at how cheap hotels are here since dollar so strong. A girl will be very smart to marry a guy like me.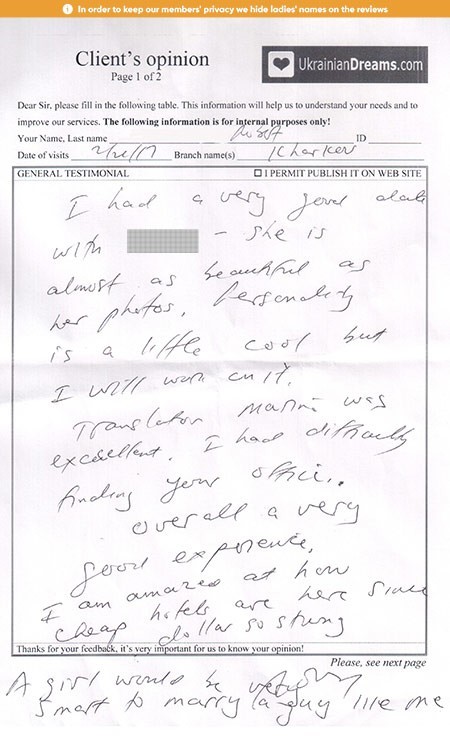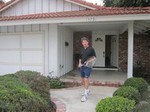 Robert
23 February 2017
Reise nach Charkiw
Uadreams reviews
Average:
1482 UaDreams review(s)
Latest review 5 days ago