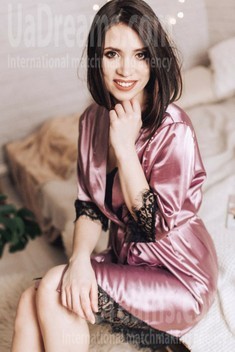 The type of man that I desire
I sincerely believe in true love, so I would like to meet a man, who can be gentle and loving. The only one, who will take care of me and protect me. It is very important that he shows me his true feelings and gives me support when I need it. In my opinion, it is impossible to build relationships on the lie. We should respect and trust each other.
See her fascinating movements and charming smile...
Feel as if it was your first date with this lady — it is worth 1000 pictures!
Watch this video for FREE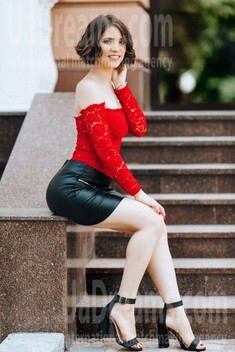 About my family
I have an average family for Ukraine. It is not very big and consists of four members. There are my parents, my brother, who is four years younger than me and I. My mother works as a nurse and my father is a worker. I love them all. We are a very friendly and close-knit family. And therefore it is not a surprise that I would like to have the same family in my future. The most important things for me are support and care because people cannot build a strong family without them. And of course, it also includes love and respect.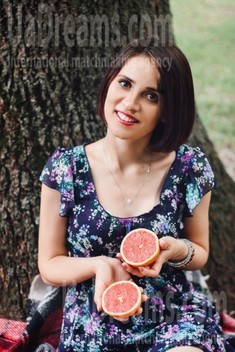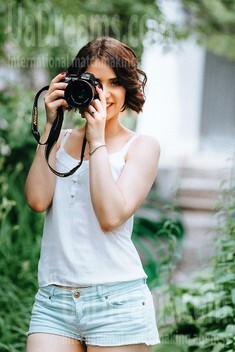 My typical day
My average day always starts with breakfast. I like to have a quick light breakfast because it helps me to be very active and healthy all day long. After that, I go to work or do the most important things for me. On weekdays I go to the gym and have a training. I like the weekends very much because I have various activities then. For example, it gives me great pleasure to take photos and participate in photo-shoots. I also like to walk and chat with my friends. We usually talk on various subjects and share the latest news with each other.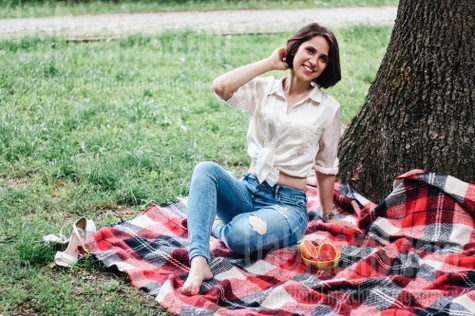 Our personal opinion of this Lady
We are favorably impressed by Dana. Where can you find a person who will tell about her hobbies and life with such passion in the eyes? She is a girl who cannot live without movement and lives her life in the fast lane. Try to catch her up!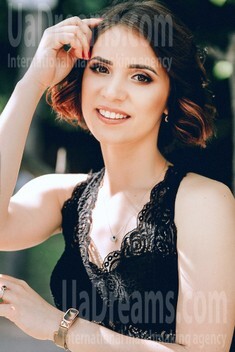 Get a much better idea of the lady's personality!
Discover her life and secrets no other men know :)
It's intriguing like finding an unknown world...


My future goals are
I like graphic design very much, because it brings me a great pleasure to create something new. I would like to improve my skills on this field and make them better every day. I am very creative person. One of my hobbies is taking photos. in my opinion, it is some kind of magic. Just imagine, you can save the most important events for you not only in your memory. It is a really cool thing! I am also interested in drawing. I can convey my vision of the world, when I paint a picture. This is the way I can show my inner world, my feelings and thoughts.
Get a much better idea of the lady's personality!
Discover her life and secrets no other men know :)
It's intriguing like finding an unknown world...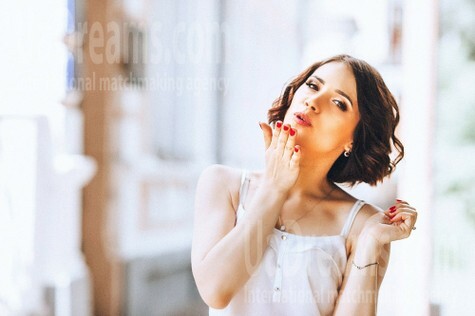 How would I describe myself
I can say that I am a communicative person. However, I prefer to communicate with happy people. As for me, this is one of the best ways I can see to get some kind of motivation to live on full and just enjoy my life. I like animals very much and one of my hobbies is looking after my pet. I have one cat and it may be very quick-tempered and naughty sometimes. In spite of it, I still love my cat very much and with pleasure taking care of it.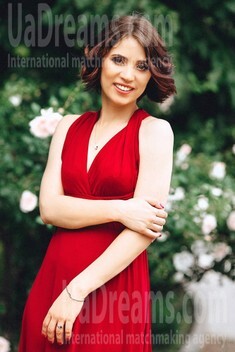 What I do in my leisure time?
I like to spend my free time with my best friends. On weekends, we usually walk or go to the cafe. I feel happy with them. It does not even important what we do together. We may just drink tea or coffee or speak about everything. I prefer to read books when I have some free time after my workday. One of my favorites is "Extremely loud and incredibly close". I never choose a book by its cover, because the content of it is more important for me. I use the same rule when I meet new people. Every day I try to learn something new and use my new knowledge.