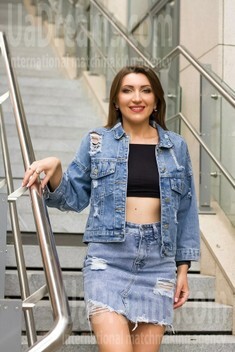 What I do in my leisure time?
I like to sing and do it professionally. I train my vocals often. Health is something we can not return once we lose it, that is why I think that sport is important and I never miss out on my training. That is exactly why I chose to attend various team sports classes. My second hobby is being a model. I am currently studying at a model agency. Whenever I get a chance or there is a special occasion - I am always glad to perform at concerts and sing for the audience. It is something that gives me freedom and makes me reset my mind.
My future goals are
My most important goal in life is - mastering my vocals, for them to become perfect some day. Independently of this first wish, the most important wish for me is to create a happy family with a man who would never let go of me and would go through life with me, hand in hand. I am now in the middle of my second higher education and I would like to finish my studies. To my mind, it is never too late to learn something new. That is why I would also like to become a teacher and have students. In general, my life is about mastering any skill I have.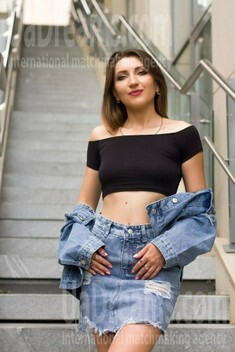 How would I describe myself
My other hobby is psychology. I like to study human behavior and think that every personality is a universe that takes a long time to study and that is what makes us completely different from one another. All it takes is curiosity and we may discover a new world. I would also like to learn to paint with a dry brush. It's a very interesting technique. Art is something that gives us an opportunity to express ourselves to the fullest.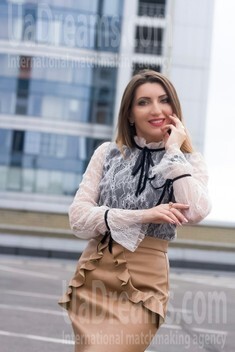 Our personal opinion of this Lady
She is a calm and confident person. If she chooses to do something then she will do her best to achieve what she wants. There is no doubt that she will give all of her soul and heart to the one who will be her second half. This lady is full of bright emotions and will make smile anyone who meets her. It doesn't take much to make friends with her. All you need is to be yourself with her and she will surely add colors to your life.
About my family
My family is no different from any other's. We are a family of four - me, my parents and my younger brother. I could never wish for anything more than these people. We all have mutual understanding and would always help in any way possible even if it's just a piece of advice. Everything matters in family and I wish to have just the same happy and friendly family myself. Their home is my home and I am glad to go back there and spend time with all these people whenever I have spare time. Of course my mother is closer to me. We are truly friends with her.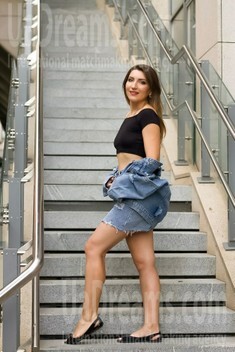 The type of man that I desire
I wish to meet a classy man: someone with good manners and who would do what it takes to build true relationships with a lady. Someone well-educated and willing to share what he has with his beloved lady. A good sense of humor is always welcome for me. There are lots of moments when all we need is just someone who would make us smile. I would like to find someone who would make me better so that we would gain a new experience together. I want to feel confidence and care. And only true love can give these things to us.
My typical day
I am a self-determined person. That is why I wake up mostly at 7 o'clock in the morning to have enough time for all the preparations before usual workday. I am always trying not to be late and think that punctuality is something that everyone should learn. I work a lot so I need to relax and ease the tension. That is why I like to go to Pilates classes after work. I think it is a very helpful activity and I always feel a lot better after it. When I am done with it - I may go out with friends or if there are other things to do - I may go home for the evening.