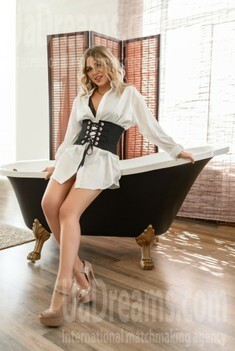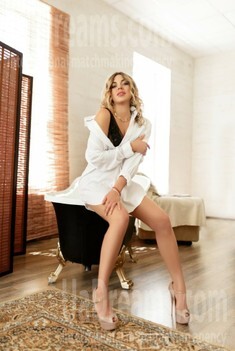 The type of man that I desire
I am looking for a kind-hearted, caring and responsible man, who will love me from the bottom of his heart and will make me happy the entire life! He should be reliable and always whiling to help me and take care about me and our future children. I wish, he had the same life goals as I have and a strong intend to create a family together. I desire a polite and romantic gentleman, who will make me lovely presents and will be always honest and open with me. I need a reliable and intelligent man by my side. No doubts, I deserve such man.
See her fascinating movements and charming smile...
Feel as if it was your first date with this lady — it is worth 1000 pictures!
Watch this video for FREE
About my family
I have a wonderful and loving family! My parents are the best people in the word for me and my two younger sisters are my little stars, whom I always help and take care of. My family is always supporting me and I want them to be proud of me. My mother is the closest person in entire world for me. She is my best friend, my support in life. My father is a man with a strong personality and he always gives me advises I need. My sisters are very talented girls and I love them so much! We spend time together on weekends at home or drive out from the noisy city to the forest and enjoy nature.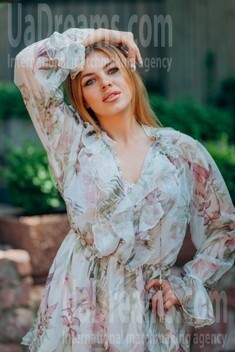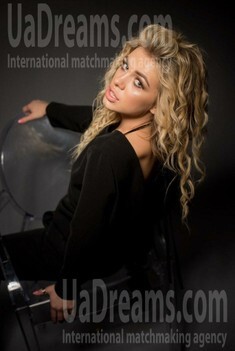 My typical day
I start my day with yoga and jogging outside when the weather is fine. Then I like to make a tasty breakfast and tea with a slice of lemon. After my morning rituals are done I go to work and have free time usually in the evening. I like to spend it in the family circle making a dinner together or go out with friends. Usually, we are meeting in a cozy cafe and have a cup of cocoa, or coffee. Sometimes we just walk together and it is not a problem for me to walk just alone and enjoy the weather. In the evening I read books, do my meditations and prepare to fall asIeep.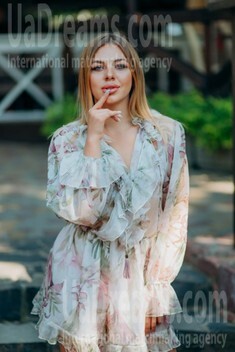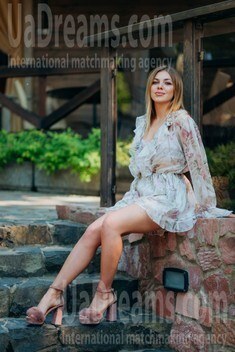 My future goals are
My goals are to have a profession which is my passion and travel to countries, where I have never been before. Travelling makes you broad-minded and offers some interesting possibilities for your future. The mail goal is to have relations, which will develop to a strong and happy family with a right person. My future family is everything for me. I want to have a house with garden full of flowers. I do not mind also to live in apartments with my future family. In this case I want to have many house plants inside.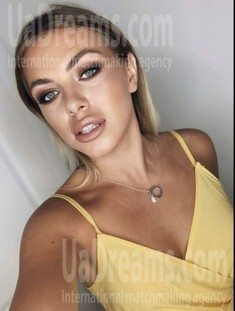 Get a much better idea of the lady's personality!
Discover her life and secrets no other men know :)
It's intriguing like finding an unknown world...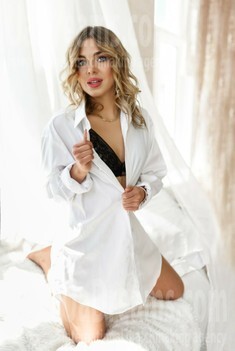 Get a much better idea of the lady's personality!
Discover her life and secrets no other men know :)
It's intriguing like finding an unknown world...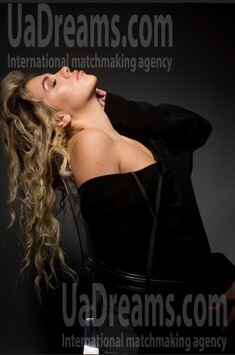 Our personal opinion of this Lady
The lady is very charming, smiling, and has a nice character. She wants to find her future husband and create a family as it is her main life goal. She makes the first impression of a woman with a strong personality, but when you start talking with her she appears to be very friendly, easy-going and cheerful. She believes that positive thoughts lead to a better life and believing in dreams and miracles is important. She is punctual, polite, honest and has a strong desire to find a man of her dreams and to make a happy family.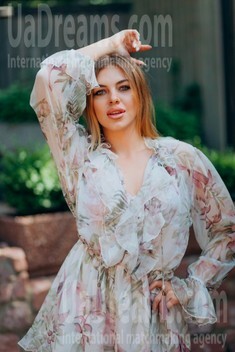 How would I describe myself
I enjoy every day of my life, it is so amazing! I am thankful for living in this beautiful world and seeing how it is rapidly developing. I am usually in a good mood and like to smile and to laugh. I am such an optimist and believe that dreams come true, you just have to believe in it. I am always active, open for new possibilities and new interesting activities. I do not mind to do a parachute jumping or bungee jumping one day. Besides, I dream to meet the man of my life and to become the best wife for him. I like always develop myself. The sky is the limit!
What I do in my leisure time?
I like to be active. I adore walking in the park, or in the forest. I like to travel as much as possible and see new countries with their places of interest, marvellous and beautiful nature. I am doing yoga and meditations every day to create positive thoughts and mood for the whole day. I enjoy reading and watching movies with my family at home and going sometimes to the cinema to watch a comedy or melodrama with friends. I used to write poems earlier, but unfortunately now I cannot find my inspiration. Doing sports, jogging, swimming are also my passions.