Our personal opinion of this Lady
Mary is a very beautiful, bright and sociable girl. She is funny and cute, loves animals and flowers. The girl has great goals in her life. She would like to visit a lot of countries.
My future goals are
I would like to find an ideal work for me and to become a self-dependent lady who has a loving husband and wonderful children. Also, I want to have my law agency in the future. That's my dream!!! I'm waiting for a bright long life where I would share my best with my family and friends. I want to travel a lot around the world and see the most beautiful places on the Earth.
See her fascinating movements and charming smile...
Feel as if it was your first date with this lady — it is worth 1000 pictures!
Watch this video for FREE
About my family
I grew up in a family of entrepreneurs. My parents own a business. There are four people in my family: mommy, daddy, sister and me. In childhood, I often stayed with my sister in the village with my grandmother. I like helping my grandmother to do housework. I love when we don't quarrel and understand each other. I like when we sit together in the evenings and drink tasty tea. I spend a lot of time with my sister because we are almost of the same age. And we always understand each other.
What I do in my leisure time?
I'm kind of a dreamer ) In my free time, I like reading books)) And in the evenings I usually walk outdoors thinking about great things) Also, I love taking a bath to get relaxed because feeling well and comfortable is very important for me. I have a special interest in making my face and hair beautiful. Because to my mind, girls have to be beautiful. So I love to care for my body skin and appearance. By the way, I like to cook new unusual dishes)) I like to have something really tasty in my free time)
How would I describe myself
I am a very pleasant person)) I love to be the soul of the company and create coziness around me. I easily make new friends because I am sociable and open-minded. I am interested in the world of fashion, therefore I like to please myself with new purchases. The feeling of comfort in my house is very important to me. I care for cleanliness of my room, look after the flowers and my cat. I love it very much. We play in my room and he often makes my room untidy, but I still love him because he is a cutie))
The type of man that I desire
I dream of a man with whom I will feel relaxed because we will be on the same wavelength. Also, it is important to me that a man knows how to listen and hear about my desires and needs. But just to hear is not enough! Because it would not be bad for my man to fulfil my desires, not all but the most treasured - yes! I like men with a developed sense of humor because I'm keen on having fun)) But the main thing is to know measures because I still need a more adult and serious man. I plan to start a family and have children. My man should be ready for a serious relationship and not afraid of responsibility.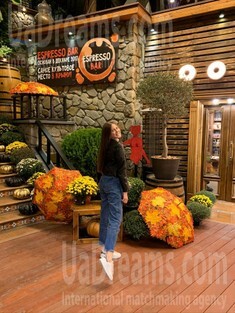 My typical day
Usually, I wake up at 6 a.m. I go to bath, then have my breakfast cooked, then get dressed and go to work by bus. After my work time, I like to walk home to compensate for the time I sat at work)) In the evening I fix my dinner or maybe it is already supper)) And in the end I get relaxed by watching movies, walking with friends or alone and reading books)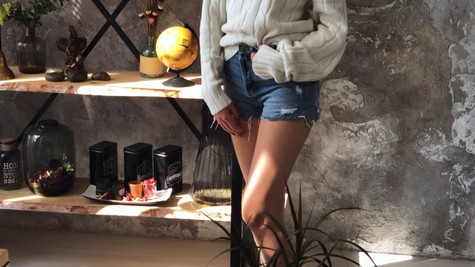 Get a much better idea of the lady's personality!
Discover her life and secrets no other men know :)
It's intriguing like finding an unknown world...