My future goals are
I am eager to achieve much in my life. My first goal, which is a priority I'd say, is to get a nice, strong family. That's actually a dream and purpose of being here on the site. It'd be also great to become successful on my professional path. I love to cook and would be glad to have my own food business, some cafe for example. I have already got a few ideas how it should look and function :) If you want to know,I'd be glad to share with you. I love traveling and would be excited to accomplish a world cruise ;) it's been always like a dream too, not only a goal :) I hope a partner I'll find here, will help me to realise them :)
See her fascinating movements and charming smile...
Feel as if it was your first date with this lady — it is worth 1000 pictures!
Watch this video for FREE
How would I describe myself
People around me say I am a caring person. I passionately care about my friends and family. So, yes, I think I am a caring, also very optimistic, positive and easy-going lady.I found that I am a very mature individual. I am independent. I am not afraid to try and willing to learn from mistakes. I also possess such qualities as creativity, enthusiasm, honesty, confidence, and humor. I have always enjoyed communication with others. I am a giver, I like giving love, I like sharing my emotions with others.
My typical day
Normally I start my day with some refreshing bath and morning exercises. Having enjoyed my light breakfast, I leave home and start my day at the university attending classes. After them I like to have some time for rest. I dine, sometimes out with friends, sometimes at home, then get to my homework. Before my parents return home, I make some dinner for the whole family. When they come over we have a sort of family time in the evening. We drink tea and talk.Before going to bed I take a shower or bath, I brush my teeth, make my bed, put on pajamas and watch some TV or chat with friends.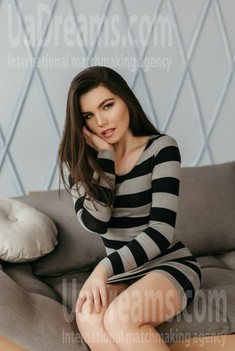 Our personal opinion of this Lady
She is a very optimistic and friendly girl. This is the woman who loves intrigue, but doesn't play games, she loves to travel, and ready to explore the world with her future soulmate. Natalie is ready for serious and long lasting relationships and willing to become happy with the help of our agency. We believe she'll find her Prince :)
The type of man that I desire
Absolutely it should be a man who will share chemistry with me, someone who's loyal, understanding, respectful, a man who is ready for commitment and define himself as a gentleman.I hope I'll be fortunate to find the person who will respect me for who I am, complete me with all my imperfections. I want him to be able to have a sense of humour since it warms the soul and helps to perceive life situations easier. I want him to be able to listen and understand me. Since I am ready to sacrifice for my man, I want him to be self-sacrificing to me and our relationships as well :)
About my family
I live with my parents, my twin brother and a younger sister :) Yes, I can say my family is pretty big but nice and friendly at the same time. I can recollect lots of wonderful and interesting moments we always got to spend together:) We have lots of family stories and adventures. We love to travel together, support each other in different life situations. My parents are hard working people. They both work in the kindergarten. My mom is a nursery teacher in kindergarten, and dad is an electrician.They've given me and my siblings good education, important values and morals.
Get a much better idea of the lady's personality!
Discover her life and secrets no other men know :)
It's intriguing like finding an unknown world...


What I do in my leisure time?
I like to be active and even in my free time I always try to find something to do. Since I study in food industry I really love to cook. I like to cook always something new and surprise my family with new, yummy dishes :) I love collecting recipes and keep the best ones into my own culinary book :) I've already got pretty many of them :) Listening to the music, hiking, drawing, surfing the Internet, singing - these are the things I'd add to this list ;)