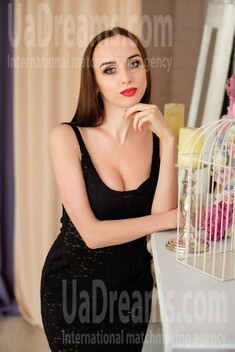 My typical day
Every new day is different for me... I try to be positive and to enjoy my life. I start my day with a bike ride, then I have a tasty breakfast, wear some nice dress, and go to the university. I spend whole my day at the university, I adore my speciality, so it is a pleasure for me to learn something new. When I come home, I have some rest, cook a dinner, and have nice walk in the evening. I believe that nice walk helps to clear my mind, it is the best way for me to relax.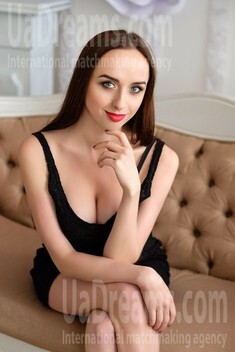 About my family
I have a great family, I love them so much. My parents have been together for 23 years, and they still like to have some romantic trip together or to have fun together with me and my elder sister. I believe that my parents are the best example of true sincere feelings, and real mutual understanding. My parents are positive people, I believe that's why I am so positive and active. Though they are my parents, we always have fun together, they like to joke, and to make me smile. My sister is my best friend, we like to spend time together in the shop, and to bike.
See her fascinating movements and charming smile...
Feel as if it was your first date with this lady — it is worth 1000 pictures!
Watch this video for FREE
Get a much better idea of the lady's personality!
Discover her life and secrets no other men know :)
It's intriguing like finding an unknown world...


The type of man that I desire
The man of my dream is very kind, and positive.. He has a great sense of humor and likes to make me smile. When we have a walk he warms me with his hugs, and always takes care of me. When I have a bad mood, he makes me smile, and he is always ready to do something crazy together with me. The man of my dream always shares his thoughts and his feelings, he likes to discuss everything with me as well. And he is always ready for my sweet and warm hugs.;)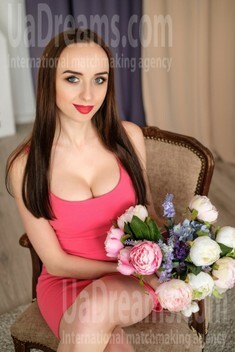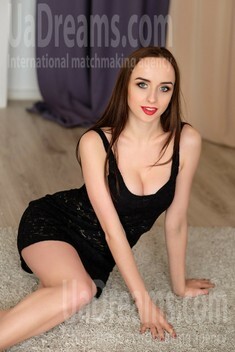 How would I describe myself
I think that my acts and my deeds can better tell about me. I do not like to talk a lot about myself, I like to be positive, and kind with people. I try to help my friends, as I believe in real friendship. I also try to help strangers, as I believe that all people have to help each other, and to make our world better. I am always sincere with people, as I believe that it is better to know the truth. I also believe that my dreams and my plans for the future with come true.
My future goals are
My main dream is to make people happy, as I said. I have a lot of friends, but I really dream to make one special man so happy. I am really open for new feelings, I believe in true love and real friendship. I am sure that I can open my soul for very kind and sincere man. I dream to wake up early in the morning and to make tasty fresh juice for my husband, I dream to look into his eyes, and to feel his tender hugs. I dream to have some fun together, and to discuss serious topics, to cook together and to look onto the stars....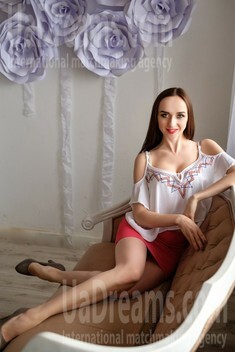 Our personal opinion of this Lady
Olena is very attentive and optimistic lady. She makes you feel her tenderness and her positive mood when you meet her. We believe that her energy can make people open their hearts. She is very open-minded and romantic, her smile made us feel great.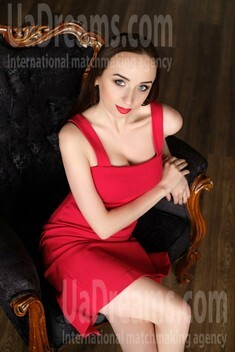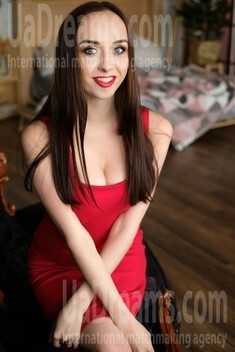 What I do in my leisure time?
I am a very active and romantic lady, I like to spend my time actively. For example, outdoors, going to the riverside or seaside. I like to play volleyball, and to cycle. I also like to cook different dishes together with my sister. I like to make my friends happy, maybe that's why I have so many friends. I am happy that these people are in my life. We like to take part in different quests. I like to meet new people, and to travel very much. When I have free time I like to visit different Ukrainian cities.
Domestic abilities
As I do not live together with my parents, I have a lot of domestic abilities. I like to cook so much, and I also like to clean my house, and to wash clothes. I do not like to wash dishes. :) So I want to find a man who will help me to wash dishes.:) I believe that it is a lot of fun to do this together. :) I also dream to have a dog, or a cat, so I hope that in future I will have one more domestic ability... to spend time with my pet.:)