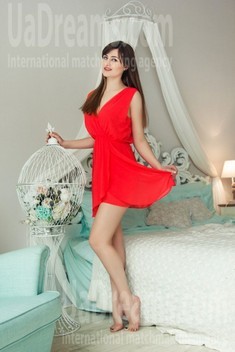 Our personal opinion of this Lady
She has a cheerful sparkle in her eyes, what makes her special! Elena is a fragile feminine lady, who came here with a serious goal. She is very elegant and has an appealing look. This lady is like a rare flower that is the delight for the eyes for anyone who come across it, but she is passionately waiting for her guardian.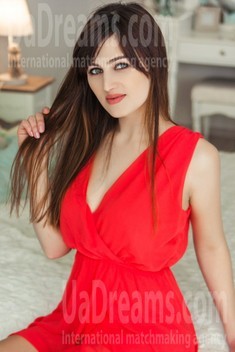 Domestic abilities
I have a picture in my mind - Our home is clean and tidy, the atmosphere is cozy and there are delicious smells and happy laughter around. I am a woman who likes cooking, not because I have to, but because it is something I enjoy. I can listen to my favorite music during cooking or cleaning, I can sing songs for my son...There are so many options! I like spoiling my loved ones with tasty dishes and they are always satisfied. I think it's a woman's mission to turn an apartment into home, into a place where her family will be happy to return to in the end of a long and busy day.
See her fascinating movements and charming smile...
Feel as if it was your first date with this lady — it is worth 1000 pictures!
Watch this video for FREE
The type of man that I desire
I am looking for a responsible man, whom I can rely on. A man who will keep his promises. The one who knows what he wants and appreciates this life. I am just a weak woman and I want to meet someone who will know what kind of tea I like or what my favorite movie is. Attention and trust are two main secrets of healthy relationship and I am ready to share all my warmth with the right person. The best therapy for everyone is care and tenderness and I am sure my man will appreciate all steps I am ready to do for him. I know that patient everyday work and efforts to keep the relationship happy, interesting and alive will help us to achieve our goals!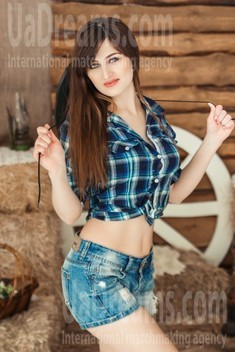 About my family
My parents and grandparents taught me to follow the traditions of our ancestors and to respect family values. It is very important for me to create a happy family, like my parent's, for example. They are very loving and kind, they showed me what the real love and respect means. I am the only child in our family, so I was surrounded by total care, but no, no, I am not a spoiled girl!)))My dream is to make my future family's home comfortable and cozy for everyone who will live there, creating the atmosphere of love and joy.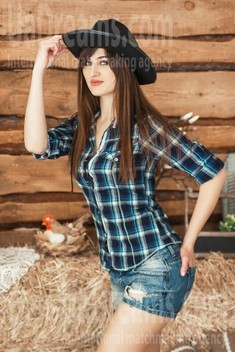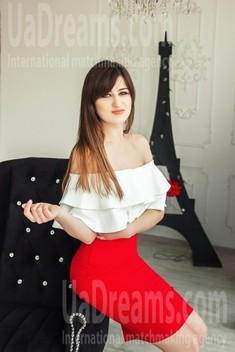 What I do in my leisure time?
Well, as a young mom I can't say I have a lot of free time!)))) Hours, minutes and seconds with my son are precious to me. I am doing my best to educate my little treasure with all possible ways...I like reading and have few favorite books from my collection. Those are ''The Master and Margarita'' and ''Fifty shades of grey''. They are from different themes, which says about me being open for everything new!)))I like theater, can't say I often have a chance to go there, but I do my best to pamper myself with a great show at least sometimes.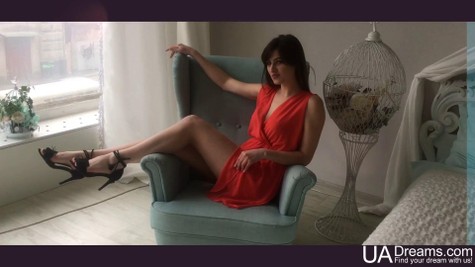 Get a much better idea of the lady's personality!
Discover her life and secrets no other men know :)
It's intriguing like finding an unknown world...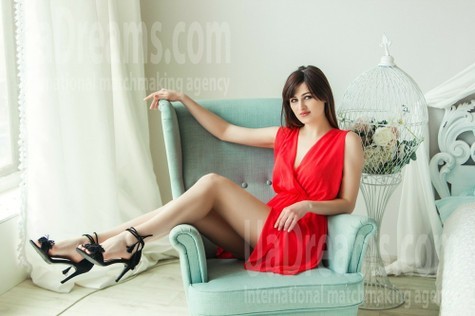 How would I describe myself
My life motto is ''Don't just exist, live!'' I appreciate every moment of my life and I am sure we all have reasons to smile. We are much happier than we think! I am communicative and friendly. I suppose we should fight for our dreams and that is why I am here, looking for my one and only man. I feel that in order to be beautiful I should be myself...A woman, who believes in real pure feelings. Who is honest with herself and people around. Who is patient enough and knows that best things are worth waiting for!
My future goals are
I think we should be proud of every step we take towards reaching our goals. I am a mother of a cute son and I hope to meet a wonderful man who will accept both of us. Being a happy mother and a desirable wife are number one in my list. Next one is to be successful in my profession, as I am a perfectionist. If I start anything, I will do it the best way possible. "Behind every successful man there is a woman." I want to be a woman who will inspire my man, who will give him wings...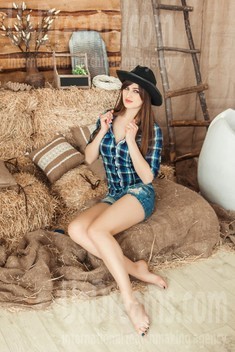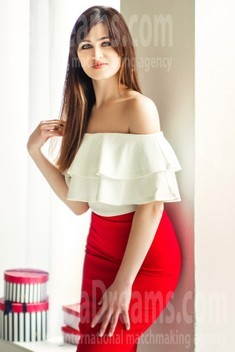 My typical day
I think that every day should start with positive thoughts and gratitude. I am thankful to the Destiny for a cute little present, who smiles a lot and sometimes wakes me up in the middle of the night. So my day can start very very early))) I am a full time mother for now and these are duties which never stop.. Cooking, playing, cleaning...and self-development when I have time. Marketing and IT are spheres I am interested in, so I am doing my best to follow all news about them. I like to watch an interesting movie or a cartoon, what can happen more often, as my son adores it! Also I can't imagine my day without phone calls to my girl-friends, as we always have topics to discuss!)))
Get a much better idea of the lady's personality!
Discover her life and secrets no other men know :)
It's intriguing like finding an unknown world...