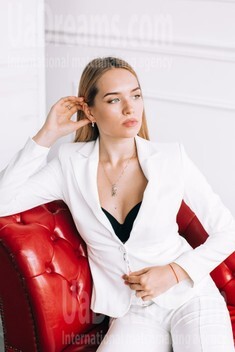 About my family
I'm lucky to have really wonderful family and they always give me their love, care and support. I'm very close with my mother and with my younger sister and I can talk with them about everything. My dad is a wonderful man and he is very protective about me, my mother, my sister and my brother. My younger brother is a very cute and sweet little boy and of course he is usually spoiled by me and my family a lot, as he is the youngest.:) I also have very kind and caring grandparents and they live not very far from me and from my family.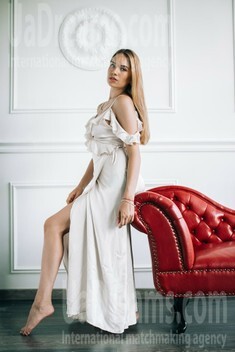 How would I describe myself
I'm a very easy-going, positive, sensitive and romantic lady. I always try to avoid some conflicts in my life and I don't like to argue. My mother usually tells me that it is always better to stay calm and to solve some problem in a quiet way. I agree with her.:) I enjoy every day of my life and I enjoy every moment that I spend with my family and friends. I want to achieve many things in my life, but when I think about my future I imagine myself being happily married first of all and I imagine having nice and reliable man by my side.
See her fascinating movements and charming smile...
Feel as if it was your first date with this lady — it is worth 1000 pictures!
Watch this video for FREE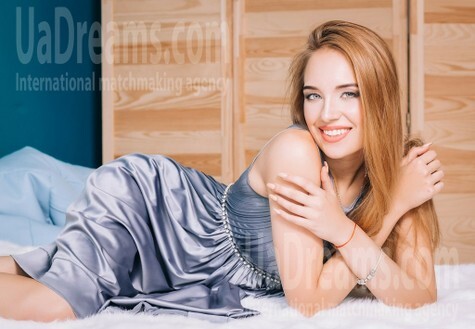 Our personal opinion of this Lady
The lady is very intelligent, smart, goal-oriented and she makes an impression of a very positive and kind person. She has serious intentions to find her future husband abroad, as we had bad experience with local men already and she wouldn't mind to move to some other country one day.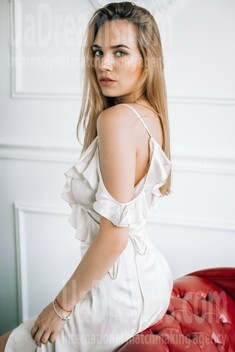 Domestic abilities
I think that it is very important to keep that place where you live clean, nice and tidy. As I live with my mother and with my sister, we usually do all the chores together. My dad is not very fond of doing cleaning, but he is always ready to take my younger brother for a walk or to the play-ground when we are doing cleaning with my mother and with my sister.:) I like to wear nice clothes and I always do my laundry by myself. I like to feel the aroma of freshly washed clothes very much and I like to iron my clothes.
The type of man that I desire
I want to find a man who will always make me happy and who will always support me. It hurts a lot when that person whom you love very much cheats on you and lies to you. I experienced that already and I don't want to experience that again. So, I hope that my man will be loyal and honest. I also want my man to be mature, intelligent and ready for serious relationship. I would like us to have some common goals and interests with my man, as it is important in relationship. Of course I will be also happy to get romantic surprises from my man sometimes and I will do that for him too.;)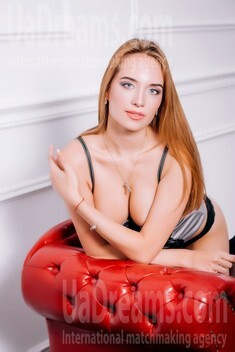 Get a much better idea of the lady's personality!
Discover her life and secrets no other men know :)
It's intriguing like finding an unknown world...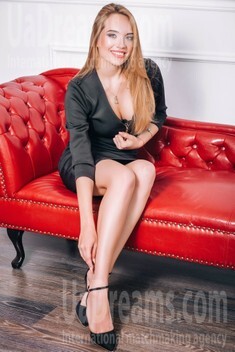 My typical day
I usually wake up early in the morning and I start my day by listening to the music, taking contrast shower and having breakfast with my family. It always puts me in a good mood when I eat tasty breakfast that was cooked by my mother and when I see smiling faces of my parents, my sister and my brother.;) Then I go to the university and after my studies I usually meet with friends. We drink coffee in some cozy cafe or go to the pizza place. Then I come back home, look through my home-tasks and spend time with my family.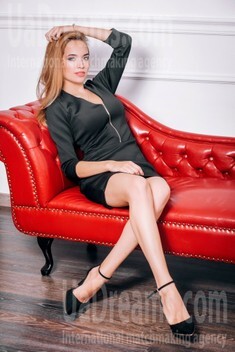 My future goals are
I'm very young and active lady and of course I have many goals in my life.:)I dream about having a family of my own and that's why I'm here. Traveling is one of my passions and it is one of my goals to visit all the continents of the world in the future.:) I will be very glad if I'm able to do that with my beloved man. I know it is important to be able to speak some foreign languages when you travel or when you plan to move abroad. So, I really want to learn some foreign languages.I also want to finish my studies and to get a job.
Get a much better idea of the lady's personality!
Discover her life and secrets no other men know :)
It's intriguing like finding an unknown world...


What I do in my leisure time?
It usually depends on my mood how I like to spend my leisure time, but it is always very nice for me to spend time with my family and friends. I like walking in the park and to enjoy different outdoor activities very much. I also like going to gym, swimming, jogging. I like sport and being active.:)It is always very pleasant for me to cook something with my mother and with my sister in my leisure time. I also like to read a good book or to watch a nice movie. Of course I also like listening to the music and dancing very much.:)