How would I describe myself
I am very optimistic woman who needs happiness and love. I believe that our life is given once and we must try, make mistakes but do not stop. I am the person for whom family values are a priority. I am opened for communication and I think that experience is very important for building relationship.
See her fascinating movements and charming smile...
Feel as if it was your first date with this lady — it is worth 1000 pictures!
Watch this video for FREE
About my family
All my family is in my heart and I think that our roots are very important. I grew up in Nikolaev with mother, father and brother. My father had a big family with 6 kids. My mom came here from the village in the age of 16 in order to work on the factory. I remember times when we lived all together with all relatives. When I was 6 we bought own house. Unfortunately my father died of a heart attack. And my mom died of breast cancer 2 years ago. I am very close with my brother and family is the most important thing for us.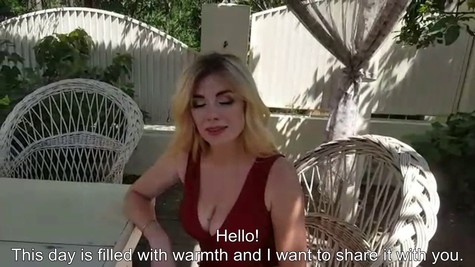 Get a much better idea of the lady's personality!
Discover her life and secrets no other men know :)
It's intriguing like finding an unknown world...


Our personal opinion of this Lady
This woman shines like a sun and it is very easy to communicate with her. She loves laughing, smiling but her eyes are full of thoughts and ideas. She is ready to create strong family and to share her energy with beloved.
What I do in my leisure time?
I am very energetic person and my day is always full of emotions. I have a lot of work so I appreciate every free minute. My leisure time I like to spend with my son or with my friends. I go to the cinema and theater very often. I adore musicals and I always try not to miss any new play. I like to be in a good shape, so it is very important for me to go to the gym. But my special passion is salsa. This crazy rhythm gives me a lot of energy and after dancing class I always feel some special emotions. It is a hobby that gives amount of feelings and keeps body fit. I want to dance it with my beloved. I also like camping. I think that it is the best way to be close to nature and to enjoy life. My son likes to tent in the woods. I like to stay near nature for several days and to get rest from the rabid rhythm of life. So, I always try to use every moment of my life with big profit for myself and my close people.
The type of man that I desire
I am a simple woman who wants to meet a simple man and to be happy. The first thing that I appreciate is honesty. I want to trust my man and to be sure that he has no doubts that I am his woman. And the second thing is the sense of humor. I am the person who likes to laugh a lot and it is impossible for me to be serious all the time. My perfect man should know a lot of jokes.:) I want to stay happy and optimistic in every situation of my life. I think that we create our life and destiny, so our mood and thoughts have great influence on us. The most important thing for me is the attitude to my son. I want him to feel comfortable and to feel that he is apart of the family in every situation. My son is my life and no man can change it. I think that relationship is the work of both. Man and woman should be active and take the initiative in any situation. It is very important to do everything together. As I am very active so I don't want to see lazy man near me. I think that being active means to be alive.
My typical day
All my days are very active. In the early morning I go for a run. And sometimes my son can join me. After it I cook the breakfast and lunch for my son, he goes to school. When I stay alone I edit photos. I cannot do something else before I make my work. This process absorbs me, I turn off my other thoughts. When I finish it, I can eat and do some chores at home. As I am photographer I have flextime. Photo session can be at different time and in different parts of the city. Sometimes I wake up early and go to another part of the city, because we need to start at 8 a.m. for example. Of course my days are full of energy and emotions, that's why I like to relax in the end of day and to enjoy some movie. Sometimes we go to the cinema or just walk. I like to reload my mind and body by simple talks.
My future goals are
My life is almost perfect, but I still need one the most important element - family. I have wonderful son and we are happy. But I want to find my second half and to create strong family. And a perfect family should live in a perfect house, so I want to buy a big house with a big yard. Of course I want to travel a lot with my family and to visit different countries with different cultures. I want to know this world and to use all the resources of this life. And in the nearest future I want to open wonderful shop with different handmade things. I want to find people for whom art is life and to create useful but original things for daily life. It is the desire of my soul and I want to make it real. I have a rule in my life - I always must enjoy the life and work.