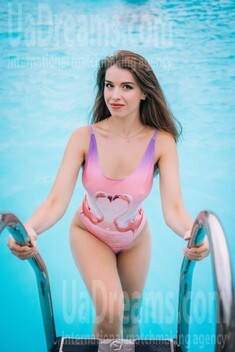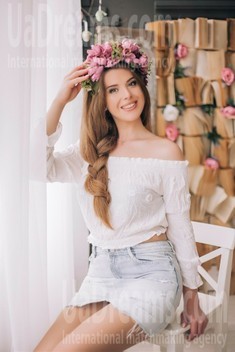 My future goals are
I have two great goals for the future. First, I want to meet a good man and create a happy family. The main word here is "happy". I like children and I dream to become a mother as soon as I will get married. I hope my future husband will also dream to have chiuldren. The second my goal is to improve and develop my knowledge and to be a very good doctor with the best reputation. As a doctor I like to help people to treat them and to see good results from my prescriptions. My best professional dream is to have my own clinic.
See her fascinating movements and charming smile...
Feel as if it was your first date with this lady — it is worth 1000 pictures!
Watch this video for FREE
The type of man that I desire
I would like to meet a man who is seriously thinking about the marriage. I hope he is confident, honest, loyal, goal-oriented, helpful, cheerful, successful, kind-hearted and wise. I hope he has a good sense of humour and likes to joke. I think that a man should set goals and achieve them at all costs. I need a man who will support me in my dreams and goals also. I want to dream together with him and go to our dreams together. I want to meet a man who can work and rest well also. I like to travel and want to make a family tradition to travel together every time we have the opportunity.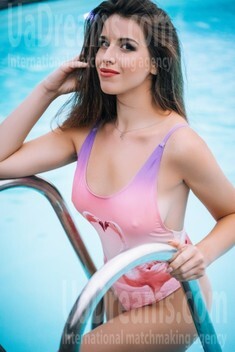 Get a much better idea of the lady's personality!
Discover her life and secrets no other men know :)
It's intriguing like finding an unknown world...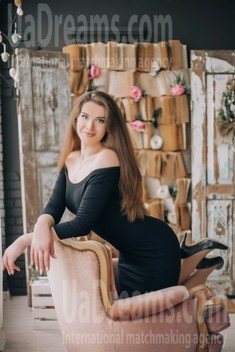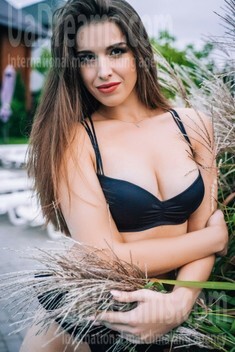 How would I describe myself
People tell that I am nice, feminine, kind and cheerful. I hope this is true. I see myself a good person. I am goal-oriented, hard-working, communicative, sympathetic, friendly, helpful and active. I know what I want to achieve in my life. I love criticism, because I can correct my mistakes and work on my shortcomings then. I am a family-oriented and I like all the members of my family very much. I like sports, nature and animals. I like to have fun and to joke. I am positive and can find a positive moment in everything.
Get a much better idea of the lady's personality!
Discover her life and secrets no other men know :)
It's intriguing like finding an unknown world...


About my family
I was born in a small town near Lutsk in the family of a teacher and an accountant. Our family consists of 5 members though it has become bigger already as my older brother got married. I have two brothers and one of them is my twin. We are in very close relationship with him. We usually feel each other even on the distance. I always know when he feels bad. The same with him. He knows when I have some issues and calls me at those times. I am also very close with a wife of my older brother. She is a very nice girl and we maker friends with her. The main rule of our family is love and respect each other.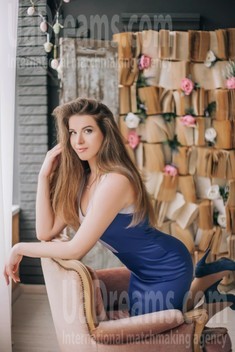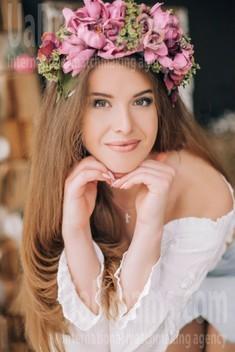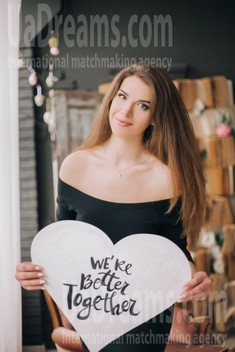 Our personal opinion of this Lady
We think this girl will achieve everything she wants and she will support everybody who will be close to her. We are sure that she is a real leader and she could be a good boss. She is very nice, persistent, goal-oriented and family-oriented. She told us about her great wish to become a mother and that she is ready to create a family. She is very active, optimistic and cheerful lady. She knows exactly what she wants. SHe is ready to change herself if someone criticise her. Olichka is a good friend and she is always glad to help.
Get a much better idea of the lady's personality!
Discover her life and secrets no other men know :)
It's intriguing like finding an unknown world...


What I do in my leisure time?
I like to work but I also like to rest sometimes. I have more free time now then it was several years ago when I was a student of a medical university. I studied 8 years and for this period I learned a lot of new things. Since that time I like to read very much. I love the moments when you are taken away by a thrilling plot and thoughts of the main character become familiar to yours and you feel like a main hero at that time. ;) When I read, my knowledge is constantly increasing, which I really need all the time. I also like to watch movies and spend time on the fresh air.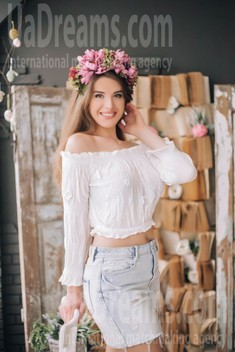 My typical day
I am not so different from millions of people who have similar schedules for the working days. I usually get up early in the morning as my working day starts at 8am. I go to the bathroom and have a morning shower. After that I go to the kitchen and cook something useful and nutritious because I sometimes don't have enough time for lunch at work. After the breakfast I get ready for the work. My working day flies very fast and usually I am very busy at work. After the work I usually go home or to the gym. Sometimes I meet my friends.