Dear Gentlemen, here we are happy to present you the testimonials of the members who have found their soulmates with help of our Marriage Making Agency.
Hier äußern sie ihre Meinungen, Erfahrungen und Vorschläge, sowie auch ihre Meinungen nach der Mannschaft des UaDreams, für die Männer, die zweite Hälfte in anderem Land suchen.
Lesen Sie, bitte, auch die Begutachtungen der Frauen - sie sind sehr glücklich, Mitglieder unserer Heiratsvermittlung zu sein! Einige Begutachtungen und UaDreams Reviews der Frauen können Sie auch hier finden: Wie machen wir Frauenphotos.
We are so proud of what you, our dearest members,
are saying about us
Just look at these people and their sincere gratitude towards us. Each employee of our company invested a part of his or her efforts and talent, to help you to find your dream!
Show next random testimonials
Enrico: Ich hoffe, dass ich in ihren Augen scheinende Sterne sehe
Über meine Lady und mich...
Es ist so schwer, jetzt mehr zu sagen, als es in meinen Gedanken gibt.
Es war an einem Tag im Oktober, als ich sie hier zum ersten Mal gesehen habe. Und ich glaube, ich habe zu ihren Füßen in jenem Moment gestürzt. Wir haben so viele Briefe geschrieben, über unsere Vergangenheit gesprochen, und auch unsere Träume und Wünsche.
Und jetzt bin ich im Kharkiw nur aus einem Grund. Ich wollte sie sehen, sie in realem Leben kennenzulernen. Ja, ich glaube, dass sie genau diese wunderschöne Frau ist, die ich mich früher vorgestellt habe. Wir haben uns getroffen, und ich möchte, dass einige Augenblicke verweilen, aber die Zeit vergeht. Wir haben in der Stadt spazierengegangen, ein Abendessen in einer Pizzeria und einen Frühstück in meiner Wohnung hatten. Wir haben einen langsamen Tanz in einem Klub getanzt.
Heute ist schon Montag und sie arbeitet schon. Am Abend treffen wir noch einmal, das letzte Mal in realem Leben in diesem Jahr, und ich hoffe, dass ich in ihren Augen scheinende Sterne sehe. Ich habe entschieden, das Profil auf dieser Seite zu löschen, weil ich die Frau gefunden habe, nach der ich suchte. Und in meinen Gedanken hoffe ich, dass die dasselbe macht und wir werden uns weiter privat unterhalten und bald einander sehen. Vielen Dank an Victoriya für ihre Übersetzung und Hilfe bei gewöhnlichen Sachen, die ein Fremder in dieser aufregenden Stadt begegnen kann.
Mit meinem Dank und besten Grüßen,
Enrico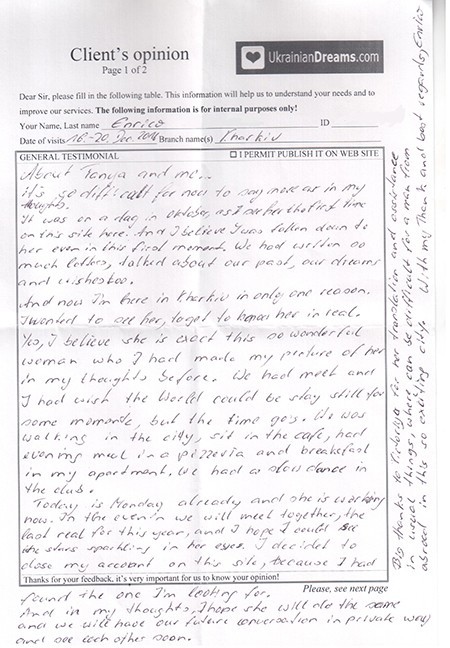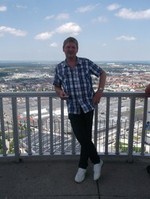 Enrico / Deutschland
12 December 2016
Reise nach Charkiw
Show next random testimonials
Simon: Ich liebe es, hier zu sein
Hallo!
Wow, ich weiß wirklich nicht, womit ich beginnen soll...
Meine Erfahrung mit UaDreams war von Anfang an wunderschön. Ich habe eine wunderschöne Lady schnell getroffen, und wir haben so schnell in Konnex gekommen, gleich von Anfang an. Es war schwer, sich vorzustellen, dass es möglich war, besonders wenn es im Internet so viele Geschichten über Scam gibt.
Ich fühlte, dass ich UaDreams vertrauen kann und in einige Monate habe ich entschieden, in die Ukraine zu kommen, um meine Lady zu treffen. Wow! Alle meine Hoffnungen und Träume wurden unverzüglich verwirklicht.
Die Ukraine ist voll der ehrlichsten und fürsorglichesten Menschen in der Welt. Ich habe in viele Länder gereist, aber ich habe solch ein Land wie die Ukraine nicht gefunden. Ich liebe es, hier zu sein. Unsere Übersetzerin Katya ist auch eine wunderschöne Lady und sorgte sich dafür, dass ich mit meiner Erfahrung jeden Tag zufrieden war. Ich fühlte mich so, als ob ich königliche Behandlung hatte.
Seit unserem ersten Treffen war ich mit meiner Lady jeden Tag im Kontakt, den ganzen Tag. Ich habe auch die Ukraine noch einmal besucht und mehr Zeit mit meiner Lady und ihrer Tochter verbracht.
Jetzt planen wur unsere gemeinsame Zukunft, also schauen Sie nach meinen Nachrichten!
Vielen Dank für Ihre ganze Hilfe, schwere Arbeit und Engagement. Ich schätze das wirklich und es ist unmöglich zu äußern, wie viel das für uns beide bedeutet.
Herzliche Grüße,
Simon
Ja, Sie dürfen alle meine Begutachtungen, die ich geschrieben habe, auf der Seite veröffentlichen, mein originales Feedback einschließend, das ich am Ende meines erstes Besuchs in Mykolajiw geschrieben habe. Ich hoffe, dass unsere Geschichte andere Menschen fördern wird, ihre zweite Hälfte mit der Hilfe von Ihrer Agentur zu finden.
Vielen Dank noch einmal!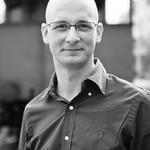 Simon / Vereinigtes Königreich
21 August 2017
Reise nach Mykolajiw
Latest and fresh testimonials date by date
Saulo: Compliments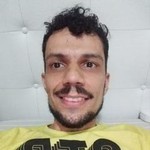 Saulo / Brazil
30 March 2021
Grzegorz: I highly recommend Lutsk branch
At the begining I would like to say thank you for the Lutsk branch office, all its staff and for Alena, my translator, for the excellent service during my introduction service with lady.
I have been welcomed very pleasantly and everybody was willing to help me with anything. Special thanks to Alena, she was very professional.
Therefore, I had no problems at all, to communicate with lady with all important details I wanted to ask the lady about. Translation was perfect. Alena is very polite, cheerful, kind person. Therefore she helped me and lady to build a warm atmosphere between me and lady during a meeting.
Also, Alena together with lady have chosen a restaurant for our meeting. It was a perfect choice, because I felt great there. The food was tasty, drinks, sweets also, nice decoration inside and perfect localisation, which was very close to the agency office.
I was very pleased to use UaDreams.com Lutsk branch office service. I highly recommend Lutsk branch for all men who plan to visit them. They will be very satisfied of their stay there, I am sure.
Thank you for everything.
Grzegorz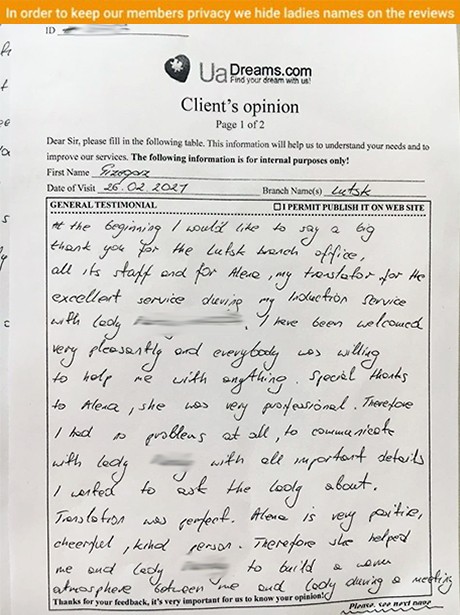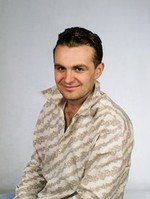 Grzegorz / United Kingdom
26 February 2021
Reise nach Lutsk
Rodney: The trip was fantastic!
The trip was fantastic! The journey to get here started 6 months ago. COVID prevented an earlier trip. I met two ladies in IvanoFrankivsk and both are quite extraodinary. From the pickup at the airport to the drive back, my translators were exceptional.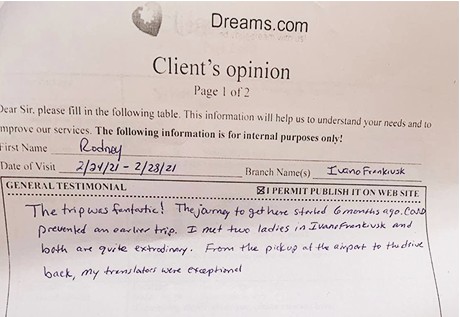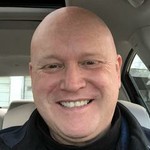 Rodney / USA
24-28 February 2021
Reise nach Ivano-Frankivsk
Brian: I could not have asked for better service
Arriving to Odessa was a culture shock. However, I was glad to see a lot of English signs in the airport.
On Sunday I met my lady. She was so beautiful in person.
I want to thank Kate (translator) and all of UaDreams for going above and beyond with the service and the translation sessions.
I could not have asked for better service. I really enjoyed my stay in Mykolaev. The city was beautiful. I hope to come back another time.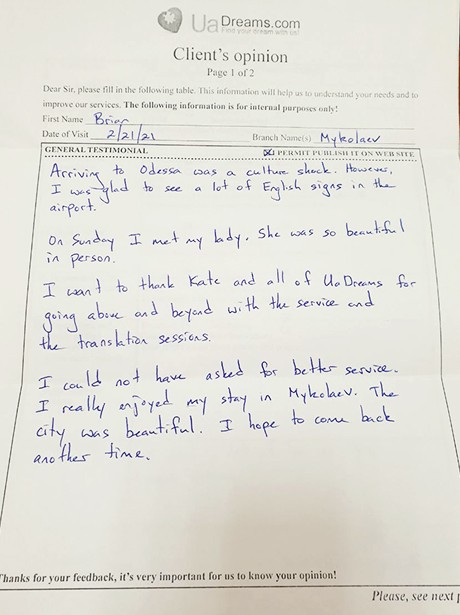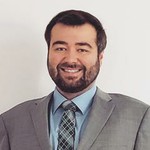 Brian / USA
21 February 2021
Reise nach Mykolajiw
John: It's my soulmate 100%
— Hello dear John!
— Hello.
— So, nice to meet you here, in Ukraine finally.
— I am glad to be here.
— I would like to ask you how do you feel here, in Ukraine? How was your trip? Is everything good?
— I feel fine here in Ukraine, in Lutsk. I had a nice trip to Ukraine from Denmark. Your roads are terrible, but it was good trip. It was long because I drive by my own car.
— Ok, thank you so much. Can you tell me a few words about staff in UaDreams, in our agency?
— Oh, staff is wonderful in UaDreams, Anastasiia is a wonderful person and a perfect translator for us.
— Thank you so much, it is a big pleasure for me. So, you met a woman here, in Ukraine (Lutsk) in our branch. That is true?
— I met a beautiful, beautiful woman here!
— Are you happy?
— Oh, I am very happy!
— That is the most important!
— The most beautiful girl from all over the world.
— So, actually it is our main goal to find a soulmate for you.
— It's my soulmate 100%.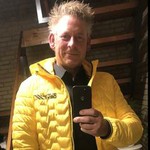 John / Denmark
13 February 2021
Reise nach Lutsk
John: The most amazing interpreter
Anastasia is the most amazing interpreter. She is so sweet and understanding! And makes it seem natural when I was going to meet my lady. Anastasia is the best.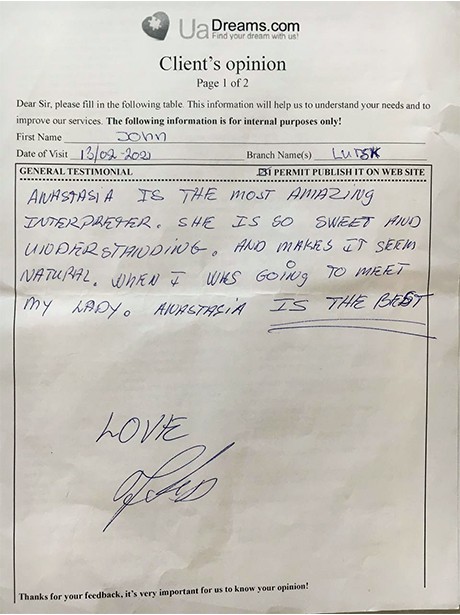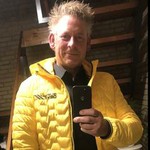 John / Denmark
13 February 2021
Reise nach Lutsk
Bruce: I am very satisfied with my trip
I am very satisfied with my trip. to Sumy. Marina was an excellent translator. Restaurants in Sumy are wonderful and very reasonably priced. My lady was amazing woman.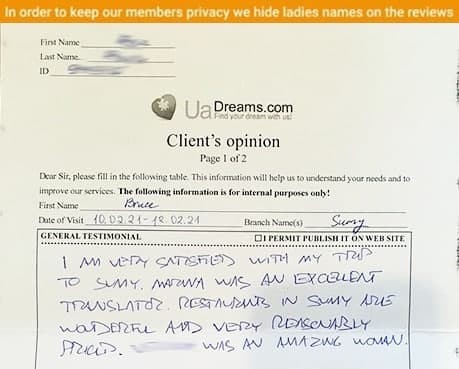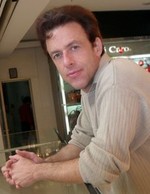 Bruce / USA
10-12 February 2021
Reise nach Sumy
Lucas: Not a question, but a thanks
As the subject line states, I just wanted to send a message saying thanks to the agency, translators, and other staff here. Prior to signing up, I was wanting to try and put myself out into the world of dating again, but after a difficult, mentally, and emotionally abusive relationship, I could not bring myself to even consider myself worthy of another person's affection or attention. Even after years of therapy to undo what my ex had done, it took (and sometimes takes) a lot to consider that I am worthy of loving someone and being loved back, and I was just about to give up when COVID first began spreading around the world.
After the pandemic was first declared, I decided one night while on a break at work, "well, why not?", and looked at different dating sites. I signed up here, after a few had been let downs, where I stumbled upon a lady's profile, and... I cannot imagine any part of life without her in it now.
Whenever I get the notification that I have a letter, sms, or other notification from her I can't help but smile and feel all happy and full of joy, once again. Hearing from her makes my day that much more enjoyable, brighter, and just overall better. I know that she has said she feels the same, and I wish I could see her face to receiving a letter from me.
I know that it is going to be a little while until I can see her in person (round trip tickets are expensive here), but it is going to be worth all the wait. I am going to end this ticket here before I go on longer than expected. I just want to express my gratitude towards those at the agency, and wish everyone at every branch a wonderful new year!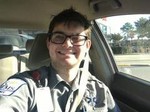 Lucas / USA
4 January 2021
Orest: Happy New Year!
Following Ukrainian Tradition I wanted to be the the first male caller to wish you a Happy New Year! I hope everything goes well at uadreams and that uadreams grows, continues to provide such a valuable service for its ladies.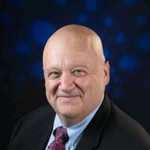 Orest / USA
4 January 2021
Edward: The staff at the support department has been truly amazing
The staff at the support department has been truly amazing and helping me out several times with my lady I like to thank you so very much for your quick response and help thank you so very much truly Edward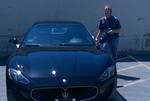 Edward / die USA
6 April 2021
Etienne: Nice meeting
Nice meeting,
Arrived in winter. Good information for meeting. Good traduction and restaurant.
Thanks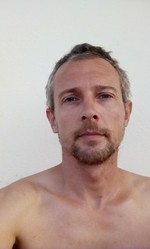 Etienne
26 January 2021
Reise nach Sumy
Tim: Thank you for the nice re-do of the video chat
I would just like to say how nice the streaming has made the video so much clearer, and to have the option of omitting the self video is much appreciated. Thank you for the nice re-do of the video chat.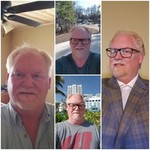 Tim / USA
12 January 2021
Mike: I wish to congratulate you about the new Chat Feature
Dear Support Staff,
I know I'm a bit late but I wish to thank you all for the professional help you have given me over the years.
In addition, wishing you a late Orthodox Happy Christmas!
I wish to congratulate you about the new Chat Feature doing away with FLASH. It appears faster and it recognised my camera and sellected the high quality and speed automatically. I big improvement over the previous system where there was quite a delay on movement. In addition the image covered more of the person - quite automatically - I didn't fiddle with the driver settings at all. Good work!
Mike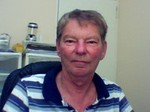 Mike / South Africa
12 January 2021
Gregory: My second trip to Kremenchuk was incredible
My second trip to Kremenchuk was incredible. Kate was extremely helpful for an translator to make my meeting seemless and comfortable! Thanks again UaDreams.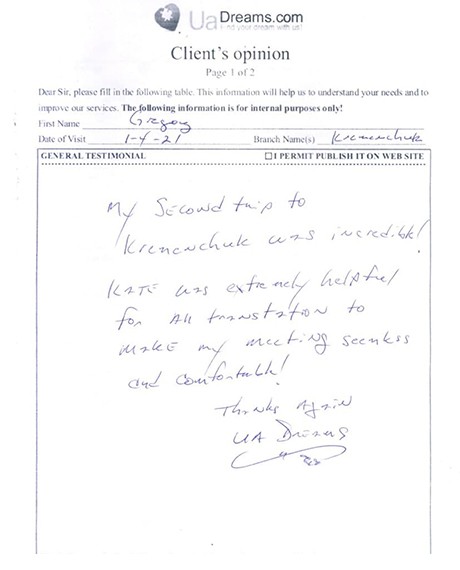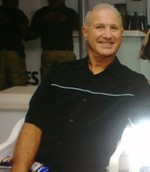 Gregory / USA
4 January 2021
Reise nach Kremenchuk
Alex: Overall the introduction went very well
I was very pleased to meet with my lady and Irina our translator (very good) overall the introduction went very well as my lady was so nice and incredibly talkative, also very enthusiastic with our relationship. The food and drinks were also very good, food was tasty and the place added a warm cozy atmosphere.
Sincerely
Alex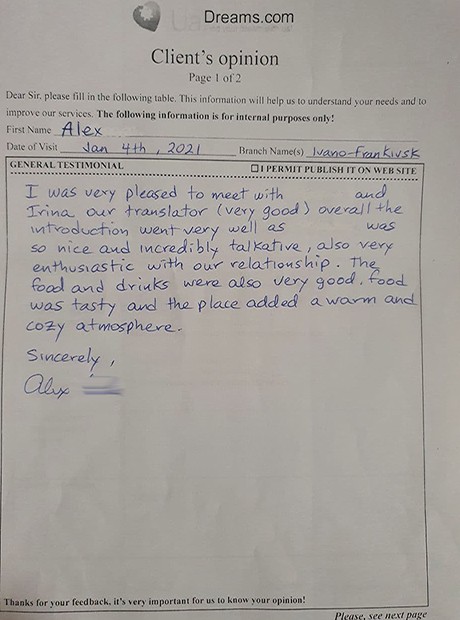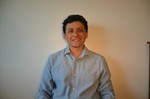 Alex / Switzerland
4 January 2021
Reise nach Ivano-Frankivsk
Alex: It was a nice experience in all aspects
It was a nice visit to town. The punctuality was respected and the restaurants sellected for our meetings were excellent. Overall it was a nice experience in all aspects. Maybe the flowers offered to my lady (only 3 red roses) could be an improvement for next time.
She is a very nice lady, very easy going and straightforward. I'll keep in touch with her looking into the next steps.
Sincerely,
Alex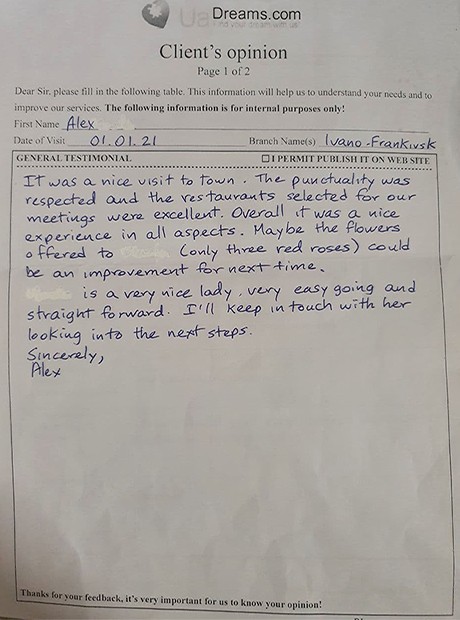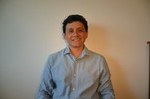 Alex / Switzerland
1 January 2021
Reise nach Ivano-Frankivsk