My future goals are
The happiest people don`t have the best of everything. They make the best of everything they have. Unfortunately, I haven`t found the beloved person in my life yet with whom I would be able to start the family. But when it happens, I want to do my best to create a strong, reliable connection between all members of the family. I want to share my love, care with my future man, to help him to achieve all goals. And also to set our own dreams and plans together. To my mind, a relationship is like a mechanical clock that you should wind every day with your beloved person)
See her fascinating movements and charming smile...
Feel as if it was your first date with this lady — it is worth 1000 pictures!
Watch this video for FREE
About my family
The family topic is very touchy for me because every day I am thankful to the universe that I have so good people in my life who have helped me to be who I am) The closest person to me now is my mother, she is the sunshine of my life and I want to make everything around her brighter) She is the big support for me in everything that I start doing) We are the best friends, always ready to encourage each other) But I understand that my world is empty without a beloved person in my life, I want to find my soulmate with whom we will start our new journey to happiness:)
My typical day
Live in such a way, that if someone spoke badly about you, no one would believe in it. I try to be open with people, to give them happiness) Every day I get so much energy in communicating with kids, that I become like the ball (not of the term of body ehe)) but of kindness, joy)) My work is the main part of my day now) Sometimes during the school breaks, I go out to have some tasty coffee in the near cafe)) It is my little pleasure at any time of the day)) Closer to the evening, I can meet with my best friend, or read some interesting book. When I am inspired, I can even read poems) I hope to find my inspiration in you)
How would I describe myself
Coco Chanel once said: A girl should be two things: classy and fabulous. I think it is about me)) I am following old-fashioned ideas of creating a family like a man should be the main person in the family, or that it is much better when the family celebrates all holidays together) Unfortunately, many people don`t agree with my thoughts now. I am dreaming to be with a person who will help me to believe in true love again and I will open all Ukrainian family values for him that will help us to create a strong connection for the long term)
See her fascinating movements and charming smile...
Feel as if it was your first date with this lady — it is worth 1000 pictures!
Watch this video for FREE
Our personal opinion of this Lady
The lady is very open, smiling, and full of kindness. It is very pleasant to communicate with her because we can see the intellect, wisdom, and understanding in her eyes. I am sure that the man will never be bored with her because he will always hear nice humor, and at the same time she will be able to join any kind of dicussion) But nothing is better than to find out everything by yourself))
What I do in my leisure time?
Hello, stranger!) But maybe until you start reading these interesting facts about me, you will become close to my heart) I welcome you on my path of relaxation and joy of life) To my mind, leisure time is a great opportunity to share it with your close people or to develop yourself) So, every second of mine I spend like that) To waste time isn`t about me. In my opinion, it is the most valuable currency. My main hobby is reading) First of all, I love to learn more about kids, and possible ways to improve their character, their inner features, how to make the process of education more interesting. Also, I can`t imagine my day without meditation, or looking into the night sky)) During my evening walks, I like not only to look at the stars but at the same time, I am learning astrology... It is the first door of my interesting life)) Are you ready to open next one?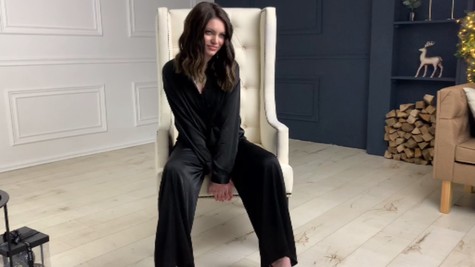 Get a much better idea of the lady's personality!
Discover her life and secrets no other men know :)
It's intriguing like finding an unknown world...


The type of man that I desire
To my mind, all people are good and deserve love. I am looking for a person who is ready to love and be loved. I can accept all kinds of games, like football or basketball )) but the scariest thing for me is to be a part of someone's game with my feelings. My dream man is an easy-going person, who wants to enjoy life) who wants to get kisses when he goes out, and warm hugs when he returns home) Who loves to have tasty homemade dishes, because I will love to spoil him with such treats so much)) who will love to fall asleep with me laying on his chest)) and many many more..)) Would you like to hear the whole list?))