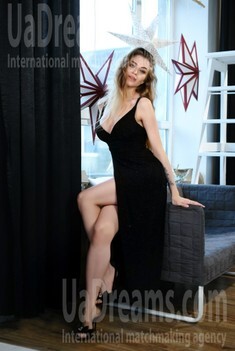 About my family
I have a younger brother, he's 18 y.o. There is also a cousin, she's 21 y.o., and a younger cousin, he's 16 y.o. I spent almost all my childhood with my grandmother in the village. My parents were at that time very young, so they mostly worked. After coming from the army, my father started drinking alcohol very much. Therefore a feeling of measure is very important to me. I would never want to experience the emotions that my mother experienced, so I know the price of myself. I'll never allow a man to treat me with disrespect. When things got better, my parents moved to Poland, and I left home almost immediately. My childhood was carefree, and in principle I had almost everything I wanted thanks to my grandmother and mom, although my parents weren't rich. I have good relations with my relatives. In general, I don't see the need to burden someone with my problems, but there is one person whom from the family I could trust in any case – it's my mom.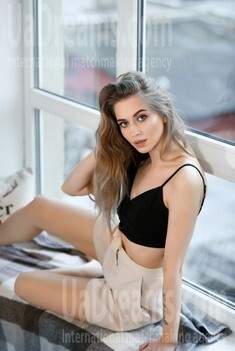 The type of man that I desire
The man next to me must be strong, kind, sincere. If he says something, he does it. I have to feel behind him like behind a stone wall. He has to be a breadwinner for his family. In healthy relationship man and woman need to listen to each other and respect each other's opinions. The man has to deal with all the difficulties in the family. The man shouldn't raise his voice, and if there is a problem – calmly explain his point of view. He shouldn't be jealous, because personal space is very important to me. I hate when a man promises something – but, in fact, nothing. I must rely confidently on my beloved. I don't like, perhaps, too much intrusion, when disrespect is shown. What matters to me is the person himself, not his physical form. I like interesting men, smart, who can teach me something or tell me something interesting.
See her fascinating movements and charming smile...
Feel as if it was your first date with this lady — it is worth 1000 pictures!
Watch this video for FREE
My future goals are
My goals for future are quite trivial – to open an offline store and coffee shop (within the next two years). In addition, I plan to start studying to become a web-designer, because for a long time I realized myself to the fullest in the profession of "sales manager", as here you can have a good salary, but in three years in this area I noticed that there's too much communication. I want to radically change this. In general, in life I'm not afraid of changing my comfort zone. I can decide that I need a new job and already act. The situation is the same, for example, with moving to another city or even a country. I would also like to open my showroom (just for my own pleasure). I would definitely like to visit some European countries.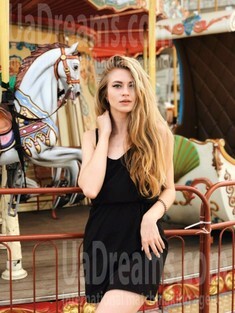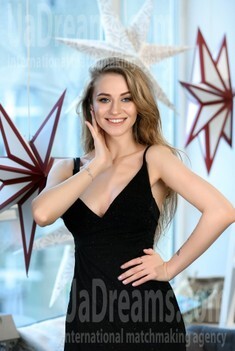 My typical day
On weekdays I wake up at 7 am. Later I train, get myself ready and have a light breakfast. How can I do without coffee with vegetable milk during breakfast? This is my love, although I also love fruit-drink, juice, fresh juice and sometimes tea. After having a healthy breakfast, I go to work, where I spend most of my day (till 7 pm). In the evening I come after work. Honestly, this rarely happens when I have supper. Usually I can watch a movie or read a book and go to bed with peace of mind. In contrast, my day off is more busy. These are usually meetings with friends or sensual photosessions for the store.
Our personal opinion of this Lady
A very beautiful and self-sufficient young girl who has already reached a lot for her age. In the conversation it is felt that she is smart not for her young age, which helps to find a common language with her faster. She also pays attention to all sorts of details. She loves minimalism and aesthetic composition in photography and clothing. She made a very pleasant impression on us.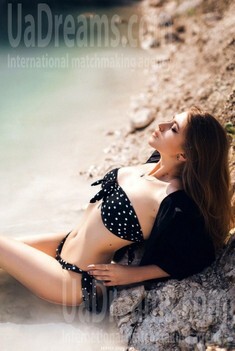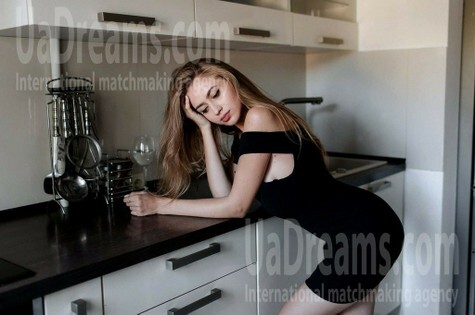 How would I describe myself
For me, the main thing in life is to realize oneself in life, so as to be proud of oneself, but for this there must be your person next to you who will support and guide. My highlight is probably me by myself. I'm often complimented for my gentle voice and, in general, I'm cheerful and sociable in any situation. My favorite colours are beige, black and grey, which are very noticeable in the commercials taken for my clothing and jewellery store. I don't know why I like exactly these tones, but I can't stand bright colors, although I like when someone else wears them. My store fully reflects my aesthetic preferences.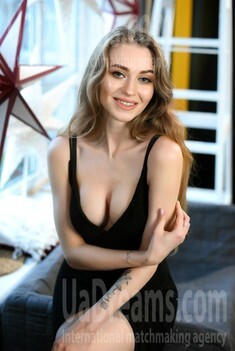 What I do in my leisure time?
In my leisure time I run my own clothing store and take photos professionally. In general, I am as restless as possible, and I have to be everywhere. I always have little time, because I am constantly loading myself on the full program. In other words, I don't let myself get bored and I don't stop developing myself comprehensively. Regarding this, boring and monotonous work is not for me, as well as a boring way to spend free time. I'm also crazy about traveling. I love both excursions and just sunbathing on the beach, enjoying the warm rays of the sun. My world is a continuous journey and movement. I don't like to sit still, so, as you've already understood, a quiet life is not for me.