My typical day
Not a single day of my life is complete without getting up with a smile on my face! It is the first thing I always do, necessarily and with great pleasure! An energizing contrast shower, exercise, and invigorating music is the way how my every morning looks. I love starting the day this way because it's the perfect way for me to feel on top of my game all day long! Work and meetings with friends, theaters, and movies, walks outdoors or chores, books, music, sports... Yes, my life is full of things that bring me pleasure and joy, a charge of positivity and vivacity, which I am very happy to share with my adorable another half!
The type of man that I desire
For me, something very important in any person, especially in my significant other, is a sense of humor. Such a quality speaks of a man as a kind person. It can be said about me too, so I wish that we were similar in this sense :) Certainly, next to me I see an intelligent and honest man, on whom I can rely and share unconditional love. Always together, a great team, understanding, and tenderness - such concepts should be important for a man who will share his life with me :) Easygoing, interesting, with a sober outlook and an understanding of responsibility for the person next to him. It would be easy for me to get along with such a person because that's exactly who I am. :)
See her fascinating movements and charming smile...
Feel as if it was your first date with this lady — it is worth 1000 pictures!
Watch this video for FREE
Our personal opinion of this Lady
Diana is a sweet, open, sunny and gentle lady.
What I do in my leisure time?
I'm a big sports fan. I often combine training with walks with my dog. So walking in the fresh air is something that is a must and a pleasant pastime in my life :) I like to diversify my life, so I try to combine active leisure with something more relaxing and informative. Meeting with friends can be replaced by reading a book or learning a new language and vice versa :) It's important for me to broaden my horizons, to be interesting and energetic. I hope that in life there will be a person for whom it will be as important as for me :)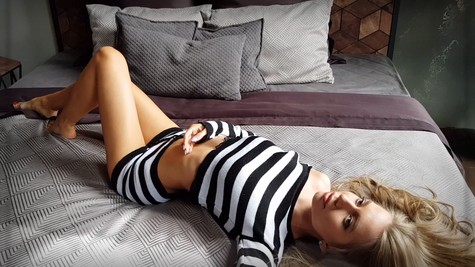 Get a much better idea of the lady's personality!
Discover her life and secrets no other men know :)
It's intriguing like finding an unknown world...


About my family
My family consists of four people - my mom, my dad, my sister, and me. My family is my wealth because it is my mom and dad who have been a great example to me of respect, acceptance of a person as he or she is, support and ease. This is what created an atmosphere of ease and trust between all family members in our family. It is what taught me to be a faithful, trustworthy person who can be trusted. We all are very different, but understanding that a loved one's opinion and personal space should be as important as my own has taught me to be a polite and respectful person who is always willing to go along and try to understand anyone, special, my loved one.
How would I describe myself
Cheerful, kind, and helpful are the first things that come to my mind. I am always open to new people in my life and am happy to greet them with an open sincere smile and warmth! :) Kindness is a power that is so lacking in the world, so I am the lady who with inexhaustible enthusiasm is ready to give it to the world and the people around me. For me the image of a real woman is the embodiment of wisdom, sincerity, warmth, and care. Of no small importance is faithfulness and support, which I am always ready to give to the person close to me in unlimited quantity! :)
My future goals are
I love anything that can inspire and motivate, make me smile, and encourage me to achieve new goals, so I would love to travel! But I think it's no secret that any place becomes more magical and interesting with a special person. That's why it is very important for me to find that very special other half, with whom we will fill each other and the world with happiness, love, and inspiration! New adventures, sensations, emotions and experiences do entice me. A little adventurism never hurts anyone ;) So I would love to add something to my life that will make my heart beat faster :)