Our personal opinion of this Lady
 Helen is very positive lady. It was a pleasure for us to work with this lady. She knows what exactly she wants. We will do everything to help her find her future husband here. Helen has very deep and beautiful eyes and adorable smile. She is a young lady, but she is very motivated and well-educated. Helen has very positive and strong energy. ill put a reminder for him for the next year.
See her fascinating movements and charming smile...
Feel as if it was your first date with this lady — it is worth 1000 pictures!
Watch this video for FREE
My future goals are
The most important for me is to build happy, strong relationships and later a family. I want to be a happy mother and wife in the future. My main mission is to make my husband happy. I would like to open my own painting gallery, of course, in case my husband will support me. I would like to be a famous artist in the future. All money that I will earn in a gallery I will send for charity. Do you think it is a good idea? I would like to open my own school of dance for children. I believe that my main mission is to help other people.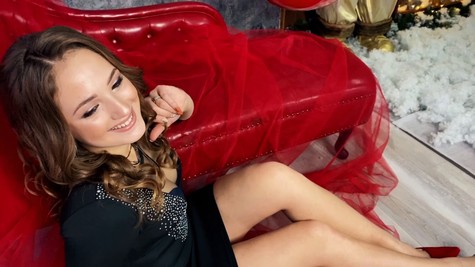 Get a much better idea of the lady's personality!
Discover her life and secrets no other men know :)
It's intriguing like finding an unknown world...


What I do in my leisure time?
I really enjoy when I have free of work time! I help my mother with my brother, to learn something for school I like painting so much, my favorite artist is Edgar Dega and Claude Monet. My favorite style is impressionism. I make a cup of Melisa tea and enjoy the colors on my brush and palette. If you want I can show you my pictures, hope you will like it. I like dances and 3 times per week I have classes of Latin dance. I feel music and I really enjoy it! Do you like dance bachata or salsa? Maybe I will be your teacher...
How would I describe myself
I think that I am a well- educated, positive lady. I know what I want and believe that I will achieve all my goals. I just need a person who will help me with this, and we will support each other.  I am very motivated and family oriented person. The most important for me to become a successful lady and wife. I am positive thinking. 
Get a much better idea of the lady's personality!
Discover her life and secrets no other men know :)
It's intriguing like finding an unknown world...


The type of man that I desire
The most important for me in relationships is support, honestly, respect, power and trust. I like active men, who have a hobby, well-educated. I want to share with my man how I spent my day, what happened in my life, and he will support me, I will do the same from my side. I like a good sense of humor. A good man will be happy with his life and the world around him, and he will want to look out for others and help them and I will help him. A strong sense of character (understands his morals and values) is important for me. 
My typical day
I wake up at 7 o'clock in the morning. Morning attributes are very important for me. I drink 2 glasses of warm water with lemon and honey, my body wakes up. I switch on mantras and enjoy these songs. Do you like mantras? I do a morning gymnastic, take a shower, cook my breakfast and go to work. I work 8 hours per day. I finish my work approximately at 6 pm, I go to the gym or dance lesson, sometimes I come back home and paint. It depends on my mood. I enjoy silence but sometimes I can meet with my friends or my family.
About my family
I have a fantastic family - my mother, father and younger brother. My family is very friendly, and we support each other in different situation. I believe that family is the most important for everyone of us. Nothing is better than going back home to family and eating good food and relaxing. Other things may change us, but we start and end with the family.