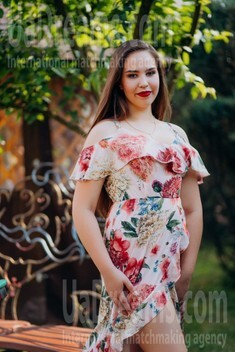 About my family
I live with my family in Lutsk. Our family is not very big, but it's very friendly and everyone supports and respects each other. I live with my parents and younger brother. I appreciate love the most in my family. My parents are in love with each other for so many years. I see their pure love, respect and understanding every day and dream to have the same family for the whole life. I am very close with my mother. She gives me the best advise and she is always very calm, loyal and I do not hide any secrets from her. We like to make vacations together. It's our tradition to travel somewhere every year.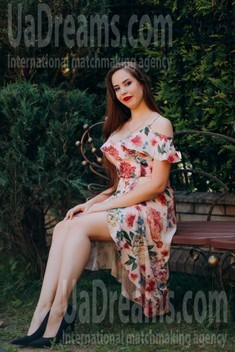 Our personal opinion of this Lady
The lady is very kind and open-hearted. She is smiling all the time and has high moral values. She is optimistic, very lovely and serious in her intentions. It's a pleasure to communicate with Iryna and we are sure that she will make her future husband very happy!
See her fascinating movements and charming smile...
Feel as if it was your first date with this lady — it is worth 1000 pictures!
Watch this video for FREE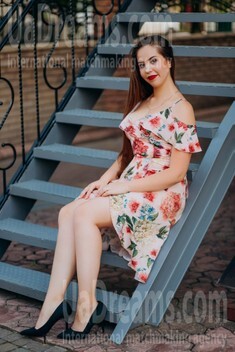 My typical day
My typical day starts with taking a shower. After that I do morning exercises, meditation. I like to wake up early and to do everything with no rush. I cook something for breakfast: that may be eggs, cereal, different porridge. I try to eat only healthy food. I prepare to my work, which starts at 9 am. Usually, I am very busy at work, but I like it. It brings me pleasure, so I understand that I am on my place. At 6 pm I go home. Sometimes I do grocery shopping on my way home. When I am too tired I take a bus and soon I am at my cozy home cooking supper. I enjoy walking, so when the weather is fine I walk and talk with my friend on phone, buy a cup of coffee and enjoy such a pleasant evening. At home I listen to music, read books, watch TV series or movies. I go to bed not late, because a good sIeep is very important!
The type of man that I desire
I dream to meet a reliable and kind man. I appreciate when a person is honest all the time, responsible and always does what he says. I am very open and honest, so I believe that I will meet the same man with high moral values and kind heart. I do not look at person's appearance, but into his soul. Of course, he should be intelligent and hard-working, help and support me.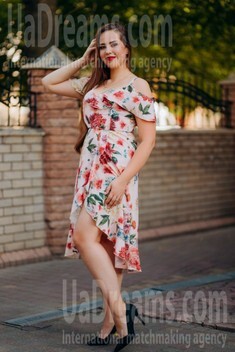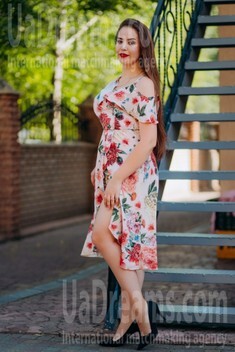 My future goals are
My main goal and my biggest dream is to create a happy family. I dream about a supportive and loyal husband, a nice house or apartment. I would like to have a car, because I need to drive my future children to kindergarten or school. I wish I could take care of my family, cook for all of us, clean the house and make it nice and cozy, travel together with husband and our children.
What I do in my leisure time?
I have so many hobbies and interests! I like to spend time with my friends, and it doesn't matter if we are walking outdoors or talking in cafe. I have many true friends and they always support me and give advises. I love swimming, reading, watching movies. My best evening is when I have a lovely walk with my friends and after it we go home and watch a comedy together, order pizza or sushi and laugh all the time! I am also keen on painting and doing sports. Sports help me to keep fit and be in a good shape. When I am cleaning I enjoy listening to music. I love all the music genres, except of hard rock. I adore baking desserts: cupcakes, pies, different sweets.
Get a much better idea of the lady's personality!
Discover her life and secrets no other men know :)
It's intriguing like finding an unknown world...


How would I describe myself
I am very romantic and cheerful. I always look at the bright side of everything and stay optimistic all the time. I can talk with my friends about everything and they say I can always make them laugh and give people a smile. I have many interests and I like to develop myself. Self-development is very important nowadays. I am very supportive and loyal, so I know that I will inspire my future husband all the time. It's never boring with me. I will be the best wife for my man and the best mother for my children. I am a perfectionist and I try to do everything perfectly all the time.