The type of man that I desire
The man I desire should be self-confident and caring, he must be ready for adventures with me!) I think we should make our life funny and exciting by ourselves, so my man has to give me a lot of positive emotions!) I wouldn't like to be bored with him, and I am sure that he won't be bored with me too!)) It is also important that we understand and feel each other without words, and then we will become the happiest couple in the world!))
What I do in my leisure time?
Oh, I can tell about this for a very long time... I like going outside with my friends or alone, it depends on my mood! I also like spending time with my family, I am sure that it is the greatest value in our lives. I adore doing sports and go to the gym three times a week. I like making others' moods better and better!)) I always have a lot of fun with people! Everyone can say that I am so positive)) I also prefer doing something productive more than laying in bed all day!)) For example, on weekends I go running!)
See her fascinating movements and charming smile...
Feel as if it was your first date with this lady — it is worth 1000 pictures!
Watch this video for FREE
My typical day
I wake up early and always start my day with a smile to me in the mirror...))) I think that it is the most important when you can smile even if you have a lot of problems, yes?) I like to get ready for work for a long time, to drink tea or coffee, not in a hurry, to think about everything, to dream about things you want to have in the nearest future!)) Then I go to my work and come home in the evening)) In my free time I meet my friends or stay at home alone to plan something for my future!)) I live far from my parents, and I call them every evening, tell everything about my day)
How would I describe myself
I am a self-confident and strong lady! But I also would like to be gentle with a man who will love me! I hope to meet here a man who will be able to make me weak and happy! I always go to the end and never give up! It is my life credo: All we do is for better! So I always keep calm and stay on my own way! I am sure that it is the best way to live your life as you want!
About my family
Now I don't live with my family, but I always remember about all the members of my family!) I have an older sister and I should say that we were taught in a lot of love and happiness by our parents! I also have a niece who is so young, but very intelligent, I love her! I also will teach my future children to love and take care of relatives and closest friends!
My future goals are
I want to be independent of all life situations, I intend to be successful and have a happy family with a man I will love! I want my children to be the happiest in the world, I want to give them everything the best and more!)) I also would like to be a support for my man, for my friends and my family! I want to have opportunities to travel, to visit every country in the world with my soul mate! I hope to meet a man here who will share his goals with me and we will achieve them together! But most of all I want my family to be healthy and happy. Then I will be happy.
Our personal opinion of this Lady
She seems to be so positive, self-confident and a very caring lady! Karina is so strong and intelligent and hopes to find her soul mate here. She is ready to be perfect in all the life spheres for her man.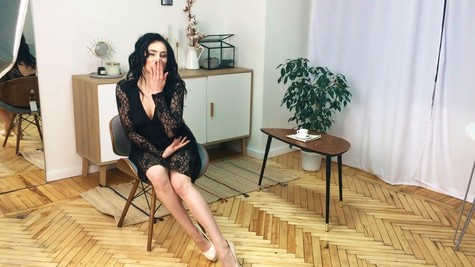 Get a much better idea of the lady's personality!
Discover her life and secrets no other men know :)
It's intriguing like finding an unknown world...