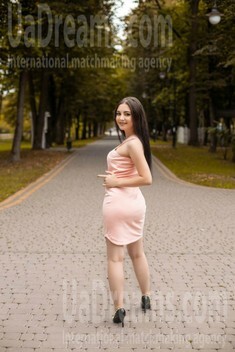 My future goals are
Family is always in the first place for me. My main goal and my biggest dream in life is to create a happy and strong family with my future husband. Then I would like to realize myself in a career because my vocation is to help people. I want to become a successful doctor that everyone admires and asks for help. Also, I care a lot about my parents and I want them to get older in peace and harmony as they deserve. So, my goal is to ensure good hoariness for them.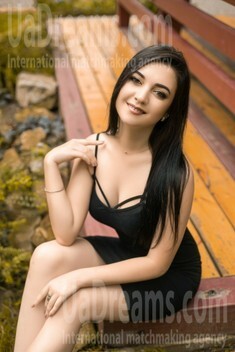 My typical day
My typical day usually starts with a work-out and a good breakfast. Then I go to work. I like a walk back home, it is usually late and I can admire the evening city lights. When I have a weekend I like to go to my parents' house and spend time in a family circle. I like doing something useful for them and be helpful.
See her fascinating movements and charming smile...
Feel as if it was your first date with this lady — it is worth 1000 pictures!
Watch this video for FREE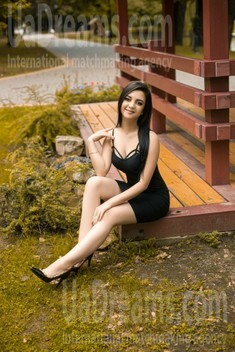 How would I describe myself
I am an honest, kind, and caring girl. I like to take care of others and help people. Medicine is my vocation in life, that's why I choose to study at the Medical University. I am a simple and interesting girl and a good friend. I always support my friends and stay very sincere and open with them. They are like a part of my family. I am a very kind-hearted person but I will never forgive violence, injustice or lie. I will always be on the side of the truth. I am very interested in human nature and psychology. I think it is interesting to know why people act in different ways in different situations. I read a lot of literature on that topic.
What I do in my leisure time?
I like to spend my leisure time with my friends. Usually, we are going out for a walk in the park or in the city center. Just talking a lot and laughing. We can visit a cafe for a cup of tea or coffee. When I stay at home, I like listening to music, reading books and watching films. I like psychology literature because it is close to my speciality at the university. I am a future psychiatrist:) I like documentary films because they are based on stories from real life.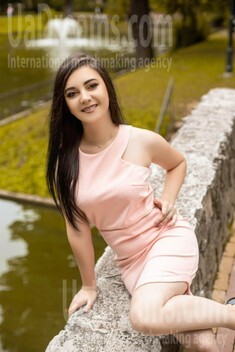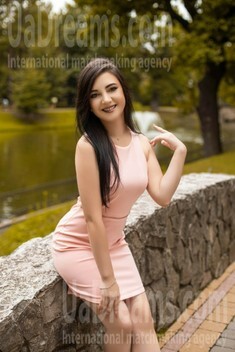 The type of man that I desire
I want to find a loyal, loving, and caring man, who will treat me nicely. I respect the man who knows what he wants from life, who appreciates his family, and who is ready to create something great together with me. I am searching for a soulmate and a true friend, who will never betray me. I will be the biggest support for him and we can go through good and bad together. The age and appearance are not important to me. I am looking at actions and at the personality of a man. I hope to find real love here.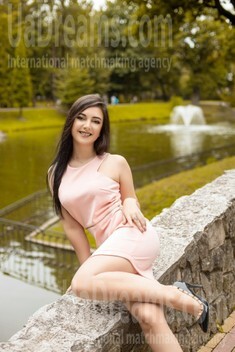 Our personal opinion of this Lady
Katy is a very nice, warm, sensual, and kind-hearted girl. It is a great pleasure to talk to her, you instantly have a feeling like you know her for ages. She is a very sweet and empathetic person and a very beautiful girl inside and out. She is always looking nice and brights the space around her with her smile and warmth. She is very helpful and cares about others. At the first sight, you can say that Katy is a very sweet and tender girl, but when you'll know her better you see that this girl has a strong personality and willingness to live the life of her dream.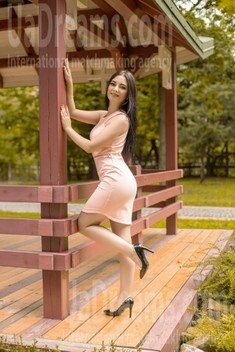 About my family
I was grown up in a little village in Zakarpattia region:) My childhood passed unforgettable with lots of adventures. I have a wonderful family which consists of my parents, my elder brother, and me. My parents treated me nicely with love and care. What I appreciate the most in my family is that we always help each other no matter what happened. My mom is my best friend and I can always come to her for advice. I can share with her anything. I would like to have those qualities in my future family: mutual support, respect and love.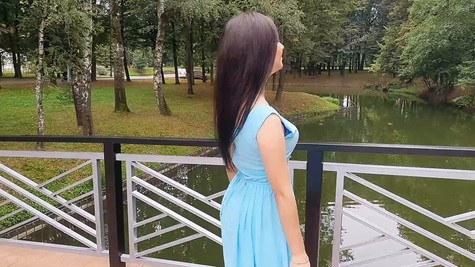 Get a much better idea of the lady's personality!
Discover her life and secrets no other men know :)
It's intriguing like finding an unknown world...